Pretty usual start to the day in our hotel room. We decided not go get breakfast in the hotel, but rather pack up and hit the road, planning to stop a bit later on for our first meal of the day. We were delighted to find dry weather when we packed the bikes, and we rode all of about half a mile to find a local outdoor store – Lena needed some inner gloves and a neck/ear/head warmer thingy.
We decided to eat in Aviemore as well, and had a good bacon and egg sarnie with a cup of tea. When we got back to the bikes, something rather unfamiliar greeted us. We had trouble seeing, and were rather uncomfortable in our multiple layers of clothing and protection – yes, children, the sun was out, in force. We saddled up, and wisely decided to kep the layers and weather protection on, because it soon reverted to form, and got pretty cool pretty fast.
We rode up to Inverness, and then turned south down the west side of Loch Ness.We rode half an hour or so down the very pretty lochside, and just after Drumnadrochit stopped at Castle Urquhart to explore. Many hundred of years old, parts of the building are still in decent shape, and we clambered about, at the same time getting stunning views of Loch Ness (no views of Nessie though).
Setting off again, we rode along southbound for another ten miles and then turned west towards the coast. We road along quiet, windy roads, that led us through pretty forests and alongside wild rivers and some pretty lochs. Loch Cluanie grabbed our attention for a few pictures.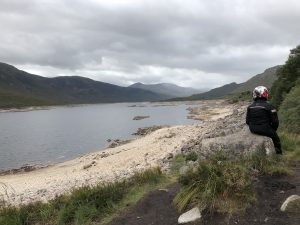 Reaching Loch Duibh, we filled up and then had a marvelous lunch at a small inn. The rain had re-established itself by then, so a lunch-break helped us dry out a bit. Another 5 miles along the road and we reach Eilean Donan, a picturesque castle on the Kyle of Lochalsh. Apparently in Scotland more biscuit tins carry this castle on them than any other scene.
A few quick photos later and we were rolling once more. A few more miles, and we reached the Skye Bridge, which took us off the mainland and on to the fabled isle. The views were lovely in all directions. We rode due north, and stopped after a few miles to photograph more of the scenery and a pretty waterfall. We could stop every ten minutes here on our tour, and capture beautiful views.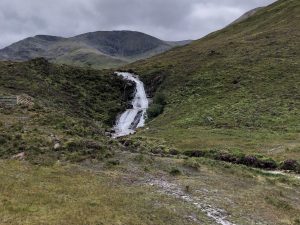 Another 30 miles of pretty road and lots of sheep brought us near to Dunvegan, our final stop. We stooped again to take in the views of Loch Harport and then Loch Caroy (a favourite), before we arrived at our little B&B for the night. A welcoming but slightly uptight landlady greeted us, and she and her congenial husband gave us a half-hour tour of what was an en-suite bedroom and a shared lounge.
Showered and changed, Donda, the local (and very rushed) cabbie, picked us up and took us to the old school, a lovely little restaurant nearby. Built as a school in the 1870's, the family who now own it have run it as a restaurant since 1985.It was busy, and had a good menu and decent wine and whisky list.
We were pretty tired after a long days ride (longest day/most miles in Scotland. After a lovely meal, Donda collected us and brought us back to the B&B in time for us to blog our daily report before hitting the sack and preparing to ride another day. See you later, McAlligator.