For those of you who have been paying attention, it is Lena's birthday today. The one accommodation that I had booked without giving her any detail was for her birthday stay. We arrived yesterday at the amazing Aqua Dome spa and hotel, and have been enjoying the combination of luxury hotel treatment, fab spa facilities and stunning Alpine views.
High up the Ötztal valley, our hotel sits on the broad valley floor next to the Ötztaler Ache, a tributary of the Inn river (you have heard of Innsbruck – it sits on this same river further down). The hotel is separated from the spa by a 40m tunnel (these Germanic types love tunnels for some reason), and we shuffle between the two in robes and flipflops (and nothing else).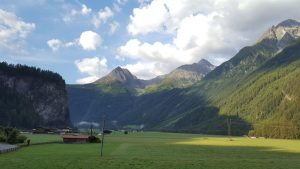 The view from our room.
Today is a relaxing day, and for the birthday we had a couples massage treatment in the spa – very relaxing. They also gave us each a glass of bubbly to follow the massage. They gave us champagne at breakfast too, and we had a drink at lunchtime, so we are truly in the spirit of chilling today.
We are still trying to figure out how to pool all of our photos, but are not being successful thus far. I will add some in when I can. The remainder of today will be spent eating, boiling ourselves in the spa, and having a bit more to drink.