Bonjour mes ami from your actual continent of Europe. We are in a cheap hotel in St Omer, about 40km south of Calais, having made a late crossing of the Channel (actually, we took the tunnel under it). It is 23:30 on Friday evening, Bastille day in France, and we are enjoying lazing on the bed and catching up with the world of social media.
We finally were ready to leave home mid-afternoon after much faffing and re-packing, cleaning and tidying of the apartment, and more faffing. I also finished the lastepisode of Season 6 of Game of Thrones today, which I much enjoyed. Anyway, we were rolling before4pm. Traffic was bad, and though I did a fair bit of filtering between cars, the bike is pretty heavy and a bit unwieldy fully laden. It is probably weighing around 600kg all told, so I am still a bit cautious with low-speed manoeuvres.
Anyway, we made the cut-off for boarding our train with 15 minutes to spare, only to be told that there were some technical power issues in the tunnel, and trains were delayed by 30 minutes. 30 minutes turned to 60, and we drank some coffee to pass the time. 60 became 90 when they finally called our intake, but we sat at the final staging point for another half an hour before we boarded. we were very last onto the train – glad they could fit us on or we would have ha an even longer wait. We finally set off over 2 hours later than scheduled.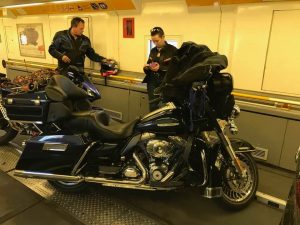 The crossing is pretty quick and uneventful – about 35 minutes door to door. Amazingly, there is internet connectivity through mobile phone networks, and I was able to message Ben while 20,000 leagues under the sea. Modern technology is pretty cool.
Last on, last off (as Mr Miyagi says). We left the train, and stopped to fill up with expensive petrol. Suitably fuelled, we ventured out onto the right-hand drive roads of the Continent. We rode about 30 minutes south, and arrived here at St Omer around 2300 ish. A quick bedtime snack, a quick blog update, and then teeth and beddington. See ya tomorrow.