A new year, a new tour, and a major change to our biking profile. Earlier this year, Lena decided that she wanted to get her own bike.This meant getting her license, and getting a bike. She started learning in April, and by early June had passed her various tests, giving her a full motorbike license. She did extremely well, and passed her driving test first go, though the phase one test (off-road handling test for manoeuvres such as U-turns, figure 8's and so on) needed a second attempt. We also bought her a bike – a Kawasaki Vulcan cruiser – and now we are a two-bike family!
We decided to take a two week break in August and do a grand tour of Scotland. I have done quite a few bike trips there, on my own, with friends, and once I did a great 'boys trip' where me and Ben spent a week on the bike, visiting various castles and battlefields. Lena has been to Edinburgh a couple of times, but never on the bike, and she has not had the extreme pleasure of visiting Scotland outside of Edinburgh. It is such a pretty country, and touring the islands, highlands, glens and lochs is something we have long yearned for.
So we have been planning routes, stops and accommodations, and have an exciting trip forming on the maps and spreadsheets that I am accustomed to using when planning my tours. All these years as a project manager means that I have good (obsessive) control of many elements and factors, but even though we will have all accommodation booked ahead of time, the routes and activities still flex right up to the time we are on the road, and often make improvised changes on the day.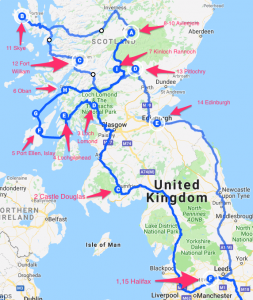 My old (figuratively and literally) friend Gus and his son-in-law Cal may join us for some or more of the trip – we are waiting to hear from them, but we have plans forming for 16 day trip to take in as much of the sights, sounds, food and whisky as we can. I will update from time to time as we make progress, and will, of course, faithfully journal our trip as per my usual manner. See you soon.
Destination
Planned miles
Day 1
Halifax
219
Day 2
Castle Douglas
194
Day 3
Luss, Loch Lomond
116
Day 4
Lochgilphead
65
Day 5
Port Ellen, Islay
54
Day 6
Oban
73
Day 7
Kinloch Rannoch
87
Day 8
Aviemore
54
Day 9
Aviemore
0
Day 10
Aviemore
0
Day 11
Skye
188
Day 12
Fort William
124
Day 13
Pitlochry
104
Day 14
Edinburgh
76
Day 15
Halifax
231
Day 16
Home
221
Total
1806