The final day is here. I woke up with a vague plan in my head to grab some breakfast about an hour down the road, head over Guanella Pass, which ends about 15 miles from Chez Levin.
Last night, I walked across the lovely bridge that spans the Colorado River to the right side of town, and found a little boulevard of restaurants and bars. I chose the Co. Ranch House for the last supper. It was an outdoors eatery, and the weather was pleasant, as was the meal. I treated myself to a decent steak and good cocktail (margarita, as it just about always is). Suitable wined and dined, I ambled back over the river – the stylishly-lit hot springs facility looked great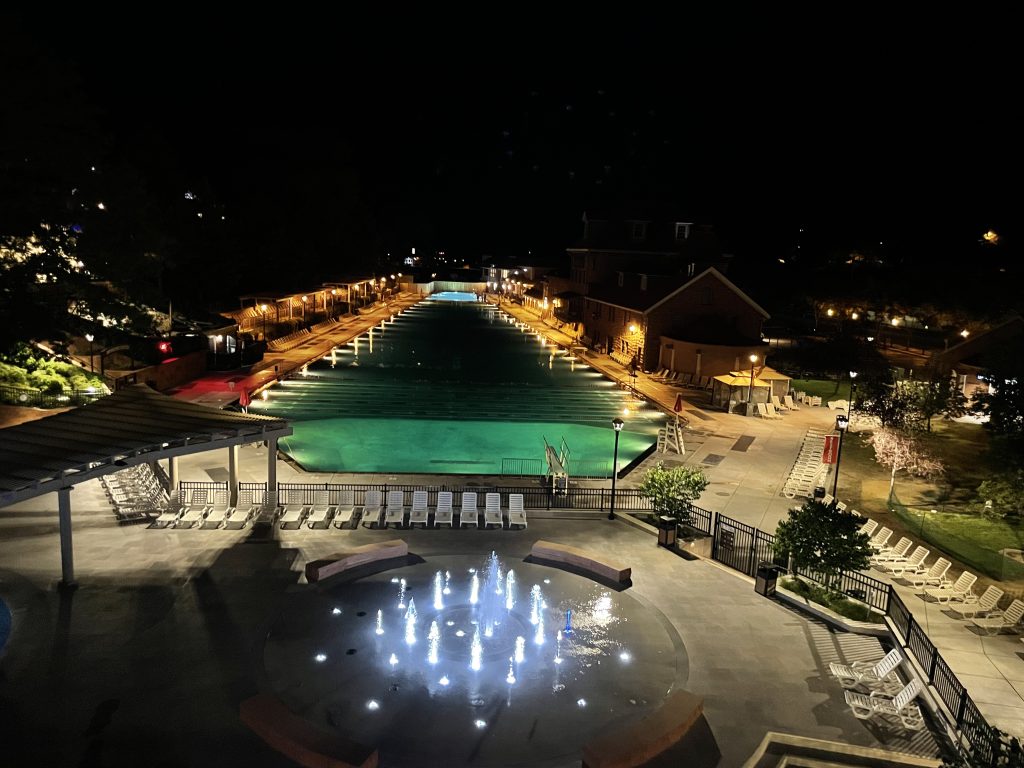 I packed efficiently – by the time a road trip ends, I am well organised and effective with how I pack and load the bike – and saddled up to ride. I had chosen a diner in Vail as my breakfast stop, and so I set my google maps destination, and trundled off into the day.
The motel was about 3 minutes off the I-70, which is the main highway running East-West across Colorado and beyond, and had been host to me a few days prior. Generally highways are efficient and boring – but the section that runs from Glenwood Springs to the east is wonderful. It runs along the Colorado river, and takes you through superb canyons and up and down steep mountain passes. The ride was lovely, if a tad fast for my sensitivities.
I left the I-70 at Vail to find my chosen breakfastery. Vail, like Aspen, is a playground for the rich and famous, and is one of the most desirable ski resorts in the country. Again, you can sense the $$ and privilege. The place is pristine, everything is neatly ordered and well marshalled. I found my diner, but could not find suitable parking. I did a few circumnavigations of the block, to no avail. There are designated tourist parking areas, but none near my chosen spot. I decided to pick a different spot a little more out of town, but alas my experience there was similar.
It seems you can come to Vail, and park in a designated area, but don't think about going anywhere they don't want you to. The place was filled with the beautiful people, jogging, walking their dogs or golfing. You get the sense that if you stopped somewhere for more than 25 seconds, 4 suited and sunglass-ed Secret Service fellows would pop out of a bush and suggest (very politely but firmly) that it might be time to move on.
I moved on, and chose a new breakfast destination about half an hour further on down the highway. A few months ago, Lena had been camping out this way with some friends, and had told me about a lovely cafe and baker in Frisco – so I headed there. And it was indeed lovely. Frisco is a cute little town, still geared towards tourists, but seems very welcoming. Anyway, breakfast was great, and I had a full tank of energy for my final stint.
Another 25 minutes along the I-70 in our familiar easterly direction is the little hamlet of Georgetown. A Victorian town, it nestles in the bottom of a steep valley. It is another spot that looks worthy of a future visit, but today I was on a mission. Georgetown is the home to a scenic railroad up Mount Evans that we have yet to ride, but plan to in some distant utopian future.
Meanwhile, in the present, Guanella Pass awaited. It terminates in Georgetown, and rises immediately and steeply before the towns houses even stop. The pass runs between Mt Evans and Mt Bierstadt (which is visible – peeking out from behind Rosalie Peak – from our house). Very tight hairpins greet you, and push you upwards. There is a decent sized hydro-electric plant part way up the climb, at Cabin Creek.
There were not too many folk on the pass. Like many of the passes I have crossed in the past week, this one closes in the winter when the snows start. There are various trail heads and camping sites along the pass, which descends into the town of Grant, and joins our old friend Highway 285.
Hang a left along the valley which hosts the North fork of the South Platte river, and 10-15 miles later you arrive in Bailey. A few minutes more, and I was turning into our driveway. Luna (the now not so small puppy who joined our family at the start of April was snoozing on the front deck when I landed, and she got very excited to see me. Despite her size (she is now about 45 lbs), she is less than 6 months old, and so does the puppy thing a lot. The puppy thing includes doing wees at time of great excitement (and when you are a puppy, a lot of things are exciting). Anyway, we did a lot of licking and cuddling and wee-ing, and Lena came to join the fun.
It took a while to off-load, unpack, get the laundry going, put cables and toiletries and laptops and gloves and jackets and helmets and things away in their place – but normal order has been restored, I am home, and all is good in the world.
This tour has been amazing, and I hope you have enjoyed it with me. I rode exactly 1750 miles in the week, which is an average of 250 miles a day. I will probably post a couple more related updates in the coming days, and I will hopefully get started on figuring out the videos that I have captured so I can get a video together of the tour.
See ya on the road next time……..
Todays map, which very sadly brings this series to a close, is here.