Gosh-darn-dang it. I had my top 3 rides of this trip all sorted out in my head- and then today happened. Today was a long day – 48 miles longer than the next longest (yesterday). And a lot of those miles (in fact, all of them today) were not highway miles — so I was not riding at 60mph. I also found my "word of the trip" – more on that to come, as well.
I hit road reasonably early – before 0730 – and tackled the Wolf Creek Pass straight away. I was travelling north-ish from Pagosa Springs to South Fork, and the pass lifted me up a great climb, with magical early-morning views.
At South Fork. I stopped at Candies Firehouse, for the best breakfast I have had for a very long time – maybe in all my American sojourn. I ordered a usual breakfast (sausage, 2 eggs over-easy, and potato) plus a side of bacon-chorizo. Was not sure what to expect from the latter, it turned out to be a hash of chopped bacon and chorizo, fried so that it was not crispy, but almost so. Anyway, everything was very good. Candy and her Firehouse are highly recommended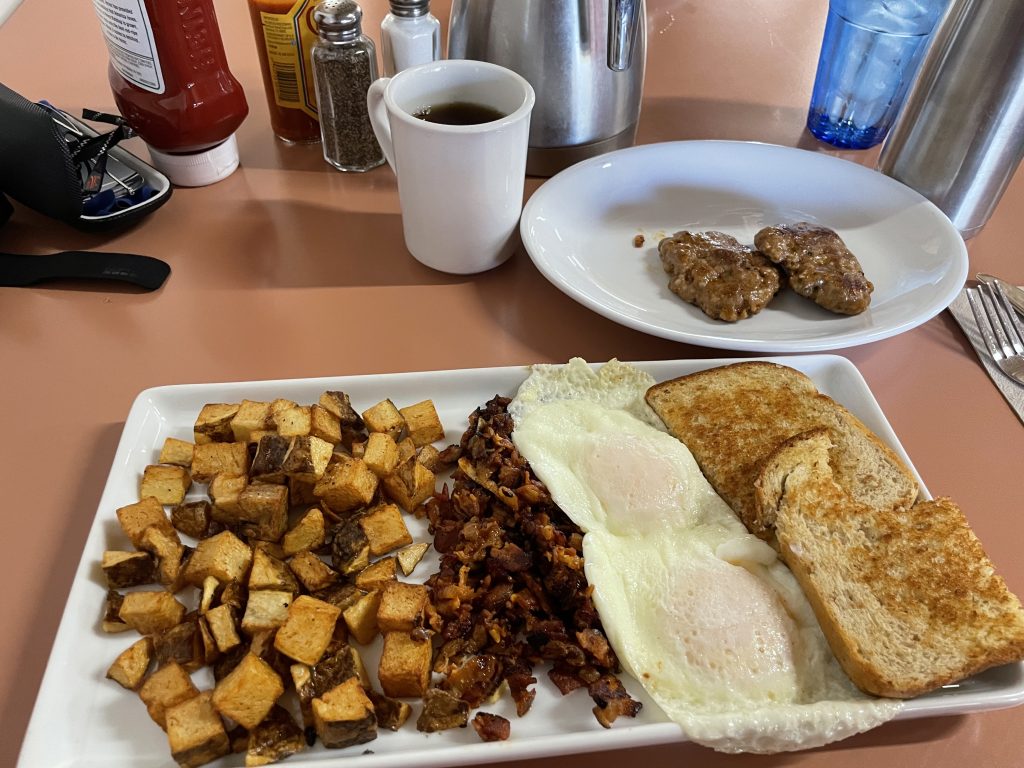 After my lovely breakfast, I headed for my next pass. this time, Spring Creek Pass was on the agenda. I was headed via Lake City, and this pass was there to be traversed. As with most US mountain passes that I have experienced, this one crossed the continental divide. My fellow 'Merkins love themselves a good divide, and the continental one is no different. Signs abound with "Pacific Ocean this way, Atlantic Ocean that way" references. I crossed the divide (politically and geographically) many times today, and on this tour.
Back down Spring Creek and I passed a viewpoint which gave a view onto the headwaters of the Rio Grande. Further trundling took me to the next pass on the way to Lake City (which, by the way, is anything but a city). And here, I met my favourite word for a very long time, as I ascended Slumgullion pass.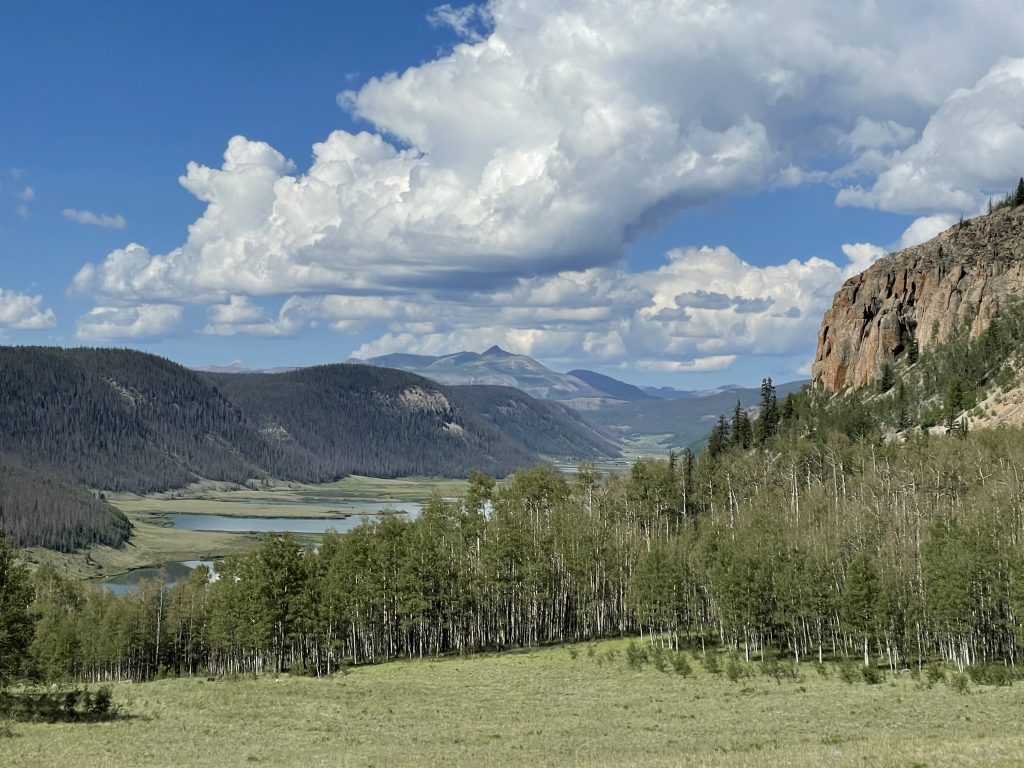 Quick Digression – I get obsessed by words. There is no particular criteria, but if I don't know how to pronounce them, and they are unwieldy or non-English or unusual, then they get stuck in my head, sometimes for days. One of these words was Usnurceva – the surname of my (then unknown to me) current wife. I was responsible for the finances for the small festival at which me and Lena met, and I saw all the bookings as they came in.
I saw her surname, and I could not, for the life of me, figure it out. I played with it for hours in my head, trying to work out how to pronounce it. Not that I had any intention of anything in terms of relationship with this unknown person, but I wanted to work out the name. Oddly enough, not too long after we met and formed a couple, Lena told me that she was impressed when we met because I was the only person in the UK that she knew that could pronounce her surname. So anyway, that worked out pretty well for me. The lesson here, children, is that it pays off to be obsessed with interesting words.
So – Slumgullion Pass. I must have repeated the word Slumgullion a thousand times in my head today. Apparently named after Slumgullion stew, the nearby yellowish landslide caused by weak volcanic activity in the area reminded early settlers and miners of the aforementioned stew.
Slumgullion – in my head, it could be one of two things: a surname or establishment from the Harry Potter world, or a word that Jonny Depp would use in one of the many attempts at an English accent he makes in a few too many of his movies. Whatever the origin, I LOVE the word.
Lake City was small and unremarkable, other than perhaps there were more All Terrain vehicles there than maybe every one I have seen before this day. Still, it was in a green forest and was nice and cool – even had a few drops of rain. Just after Lake City, I hit my second of about 5 seriously disruptive roadworks of the day. You know the type – you queue for 20 minutes while you wait for a pilot vehicle to lead you through a single lane of the roadway you are trying to pass. I bet these roadworks added 90 minutes to my journey time today.
Whatever. More nice road took me north from Lake City to Gunnison. You might remember the name from our previous greatest hits, namely day 1. Today, I did the reverse of a wonderful part of day 1 – Gunnison via Cottonwood Pass to Buena Vista. Re-read day 1 for details (but read them from the bottom of the page to keep it real). Cottonwood Pass was superb once again.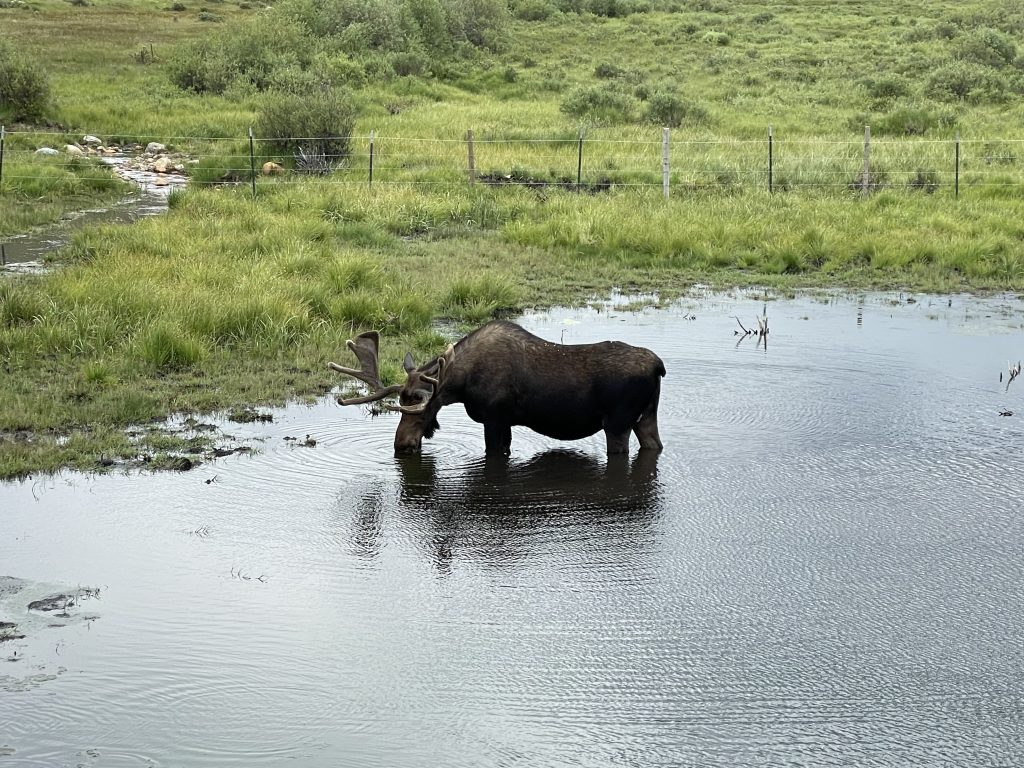 At the bottom of Cottonwood Pass, before I began the ascent, there was a large Moose stood in a pond, doing his thing. Many folk were stopped or trying to get a good view – he was unmoved, and very focused on eating whatever it was he found in the pond.
At Buena Vista, I turned northward and followed the valley made by the Arkansas River for about 20 miles. Lena and I rafted the Arkansas in this very stretch last year – not once, but twice. At Highway 82, I swung a left, and headed for the hills. Mount Elbert is visible very quickly, and is imposing. It is the highest summit in the Rockies, and the highest point in Colorado too, at 14,439 ft. At the foot of this towering peak is Twin Lakes, a town set on a very picturesque set of conjoined lakes.
Through this pretty land I rode, and soon began to detect a familiar set of signs indicating a significant mountain pass is approaching. Vehicle-length restrictions, speed limits lowered, and a bloody great mountain looming large in the immediate foreground. The pass from the Arkansas river which runs over the mountains to Aspen is called Independence Pass.
Typical of the best passes I have ridden this week, there are sharp hairpins, major drops and stupendous views. Oh – and of course, there is a continental divide sign so we can, once more, celebrate our differences. I mentioned that I was now struggling to identify my top 3 rides of this tour, and Independence Pass has well and truly muscled its way in to contention for the top prizes. At the top I chatted with various folk, including a Scotsman from Edinburgh, who took a few pics of me at the summit.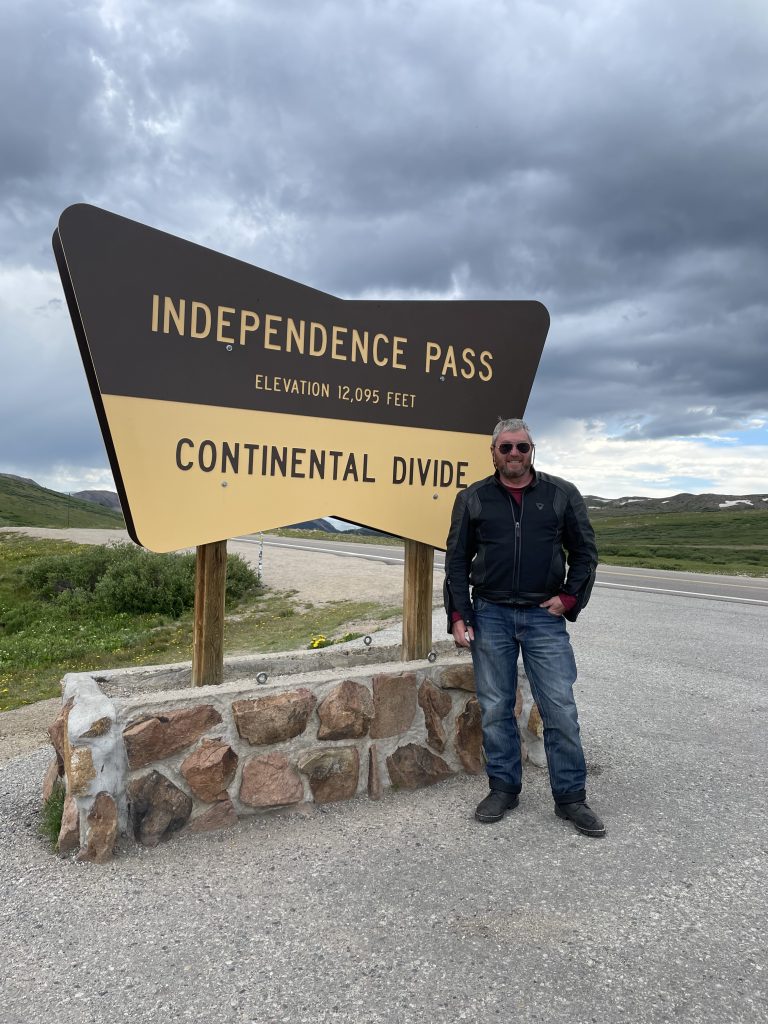 A bit of rain on the way put a dampener on this (LOL), but I didn't get too wet. The road leads to Aspen, playground of the rich and famous. You can smell the money long before you arrive, and the place is obviously a suitable haven for those who don't want to live in the real world -and can simultaneously afford not to.
The last 40 miles of the day took me towards Glenwood Springs. All was well, until the last 40 minutes, when traffic slowed to a crawl. It was effing hot (90f, 33c), and on a hot bike, wearing all my gear and being baked by the sun, the last miles of the day were not my favourite.
I am staying at the most "motel-iest" of my weeks accommodations, but it is my last night on the road, and I am somewhat exhausted by the day, as well as the week on the road, so I will sleep the sleep of the righteous.
I have absolutely loved this tour, and it ain't over yet. Tomorrow, I am going to ride Guanella Pass, which takes me almost directly back home. We have been over the pass in a car, but the anticipation of the bike ride excites me.
I have learned a lot as a rider on this tour. My bike is big and heavy and unwieldy to manoeuvre at low speeds, and I have already written a bit about this. I have to be strategic about where, when and how I stop the bike, so I can be sure to be able to set off again. For example, if I stop on a down slope, I can't reverse or push the bike back up the slope – it weights a literal ton. I have become much more confident in handling these situations.
However, when thinking about what I am learning about biking, I think that my many hours of practice have made me a much smoother rider on twisties and steep curves. It can be a bit scary to take the bike around a hairpin bend while climbing steeply and watching the road surface because it is wet and slick and also watching the oncoming traffic which often crosses the middle line of a very narrow roadway. Oh – and there is a sheer drop of many hundreds of feet about 2 yards to your right.
Not unreasonably, I have often been quite "on-edge" in these circumstances. But – having done quite a number of high mountain passes this week, I observed my techniques and rhythm, and made some adjustments. And with these adjustments, I am much more confident and smooth in riding a big bike up and down the passes that would make a mountain goat think twice.
G'night, gentle people. See ya tomorrow as we wrap up this lovely week together on the roads through some of the most beautiful scenery and experience you could imagine. TTFN
Todays map can be found, in its full technicolor glory, here.