So for those of you keeping score, we are 48 miles short of our 1000, which will pass by tomorrow morning sometime. Thats a lot of miles to sit in the saddle. Fortunately, the saddle is pretty comfortable, and has become even more so over the past few days as I have really gotten to know this bike and how to handle it.
Well, today was yet another atomic day. For maybe some different reasons to previous days, but we will get to that. I had a pleasant nights sleep behind the Pepsi bottling plant, and when I awoke I once again found no good reason to hang around. I packed and loaded, and then rode all of about 10 minutes or so to Bloomfield where my American breakfast was provided by the good people at the Roadside Restaurant.
As a biker, one wants to spend as little time as possible on motorways. Long, straight, boring and too fast. But, motorway miles are the price you have to pay in order to get to the special roads that criss-cross the country. Today began with a significant tax to pay, and the first 140 miles of the day were in payment to the motorway gods.
I used the cruise control option for the first time on this tour, and sat at a steady 60 (the speed limit was 70, but I was relaxing and not gonna push it) for most of the way. It was damn hot, but the speed kept the wind steady and so I didn't overheat much. I also put a bottle of cool water in my new cupholder, and so I could take a sip from time to time.
I finally reached San Ysidro after a couple of stops for cold drinks and urifications. Here, I hung a left off the 550 highway that had kept me company for the first part of my day, and joined Highway 4, which ran east towards Jemez and beyond.
It was still very damn hot, and the speeds on the new highway were very limted (mostly about 35mph). After a few habitats, the terrain went from yellow desert to dark red stone, rock and canyon. The first hour of this segment of the journey was very twisty and hot and red, weaving in between walls 100-200ft high, punctuated by the odd settlement. I saw few cars, and fewer bikes. I guess I am the only idiot riding the Pajarito Mountain pass today.
The hot, red desert landscape slowly rose higher and higher, and imperceptibly became cool green forest. The road climbs slowly from 5500 ft to 9500 ft. The cool green forest was hosting a rain party, so I got quite wet and enjoyed the cooling effects of the drizzle. At the top of the pass is the Valles Caldera – a 13 mile-wide meadow sitting in the caldera of a long-forgotten volcanic eruption. The contrast of the lush green expanse to the red rock and tight canyon below was breathtaking.
Over the top and down the other side I went, as the weather slowly dried out. the descent was fun and provided just enough adrenaline. At the bottom of the road, I hung a left onto NM 501, and pretty quickly came to a gate with a military person stopping traffic. The scenic route suggested by my mapping peeps took me right through Los Alamos.
Those of you with even a slight sense of history know that Los Alamos is where the US government provided a well-protected location for the University of California to conduct the work they had mutually agreed in a secret contract. Led by Robert Oppenheimer, the facility and people were responsible for developing the first successfully deployed atomic bomb.
Today, this is not a secret location, but there is still a lot of secret and not-so research located here. I was scrutinised by Johnny marine, and told that I could pass through – but "not to stop, and not to turn right under any circumstances". No-one told me to stop my GoPro, so I probably have some innocuous film of the traverse. I rode the couple of miles through the complex, with the cross-streets bearing very recognisable names, like Bikini Atoll rd, Eniwetok Drive and more.
Through the facility i passed, then onto a highway which was kind of pretty, in a desert/scrub/rock kind of way. I rode the last 30 miles or so the Santa Fe through this kind of terrain, The most exciting part of the last stage was the fact that I joined US Highway 285. This is the very same road that brings us up our very own mountain from Denver to Bailey. US 285 runs from Sanderson in Texas to Denver, passing only a couple of miles form our humble abode. It also passes through Roswell, NM, which is where all the aliens dwell (apparently).
I visited the local Harley store on my way to todays final stop, but alas found nothing to spend my $$ on. I did ask the tech folk there if they know how to control Apple carplay volume from the bike, but the did not. One of the few – and very minor – niggles of my bike.
My hotel is the Guadalupe Inn. A small and private place tucked away on a cute side-street, it is very reflective of the local architecture. I am no expert, but everything here seems to be Adobe style housing. Everything is red/orange/yellow, and the neighbourhood is very pretty. The room is good, too.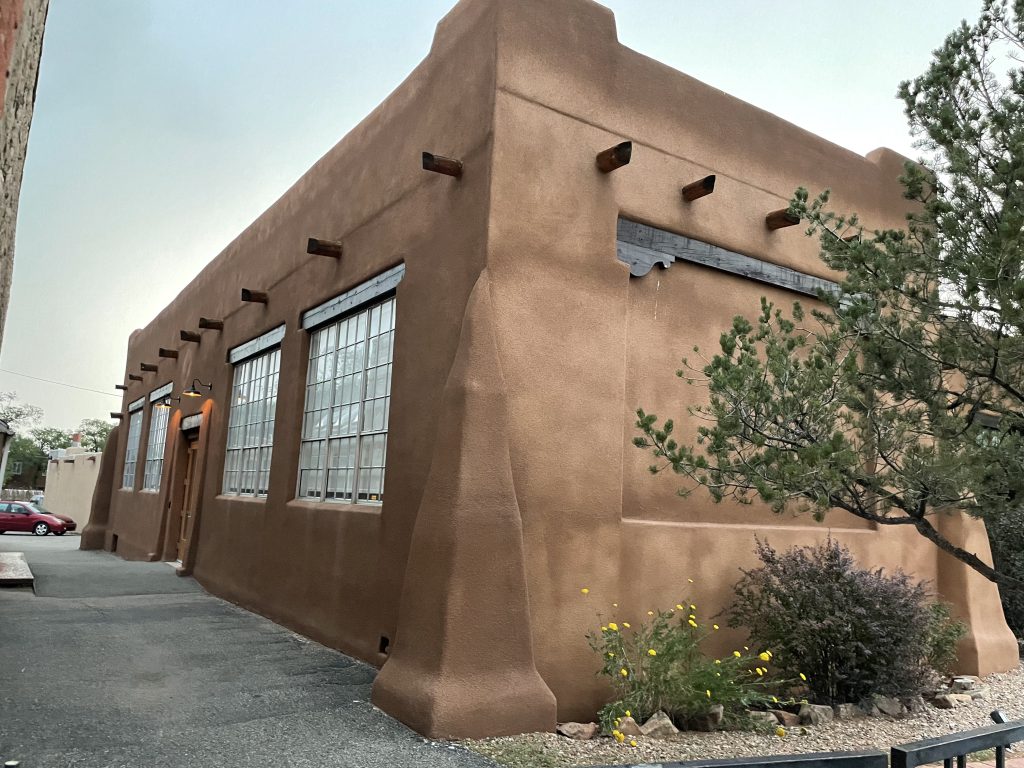 Nearby (about 5 minutes walk) is The Cowgirl, a BBQ/smokehouse. I realised I did not stop to eat any lunch today, so was very ready for an overdose of meat for supper. It was very good.
I have to be up early to join a call at 0700 (I am attending a 7-week online course and have to attend and submit course-work weekly), and have a long day of riding too. I am going to re-pack all my gear now, and get it mostly ready so I can wake up and prep, then do my call, grab some Continental breakfast from the Inn, and hit the road.
G'night all
As you have come to expect, a link to todays route can be found here