So these days are very full. So much so , that by the time I get to my chosen accommodation each evening, I have to look back at the map to see where I have been. Today showed me more incredible roads and views, and I am yet again even more deeply in love with this beautiful land.
I had breakfast in my hotel (free with the room that cost a ton) on their upper deck, which provided lovely views of the surrounding cliffs and rocks. It was pretty early (around 0730) but the sun was already very hot, and I had to keep moving to stay out of the direct rays. Breakfast was acceptable, and once concluded I proceeded to faff and pack up the bike in readiness for another day of adventuring.
I set off down Moab Main street, which heads generally southwards. After 20 miles or so, I hung a left towards La Sal, which put me on yet another forsaken road to nowhere. It was hot, and I rode through the desert without much to enjoy for a while. Suddenly, we dropped into a rocky canyon, and my dayily dose of twisty roads and lovely views began.
I descended the hairpins, until suddenly I found myself in Colorado. By coincidence, I clocked 500 miles on the trip shortly after having crossed back into my home state. The road took a wonderful route down more canyons along a river, and then dropped me into Paradox Valley.
According to Wikipedia, "The dry, sparsely populated valley is named after the apparently paradoxical course of the Dolores River—instead of flowing down the length of the valley, the river cuts across the middle". And dry, sparse and bloody hot it was. A long straight road pulled me along the valley, with thinly crusted sand on either side of the road, for miles and miles. I tend to drink a lot, especially in such hot weather, and at some stage had to make a stop by the (pretty much desert) roadside to relieve my poor bladder. The earth soaked up the liquid in seconds!
I made it through the Valley of Death somehow, and passed through Naturita, Norwood and Placerville. I could tell that I was back in the Rockies, as the land rose, and green forests reappeared. Soon enough, the spectacular peaks of this region hove into view. Mt Sneffels (I LOVE that name), Mt Wilson, Whipple Mountain, Last Dollar peak and other such lovely names made my heart sing in appreciation and love for things Alpine.
The valley was very Swiss indeed, and the Sneffels Peak that separated this side from Telluride as I rode southward. Stunning views and verdant greenery abounded, and I reach the beautiful mountain town of Ouray. Pronounced You-Ray. Hooray indeed. Lots of traffic congested the little place, so I passed through, and the road immediately began to climb steeply.
I had entered the Million Dollar Highway. Not sure what to expect, this is another of the Gold standard rides that my Butler maps had recommended. The road climbed hard and fast, and somehow clung on to the the side of the mountain – though it is difficult to see how (or why) it was built. There are no guardrails, and the drops are often many hundreds of feet. The hairpin bends (switchbacks for my American friends) are super tight and steep, and you have to take some of them at 5-10 mph.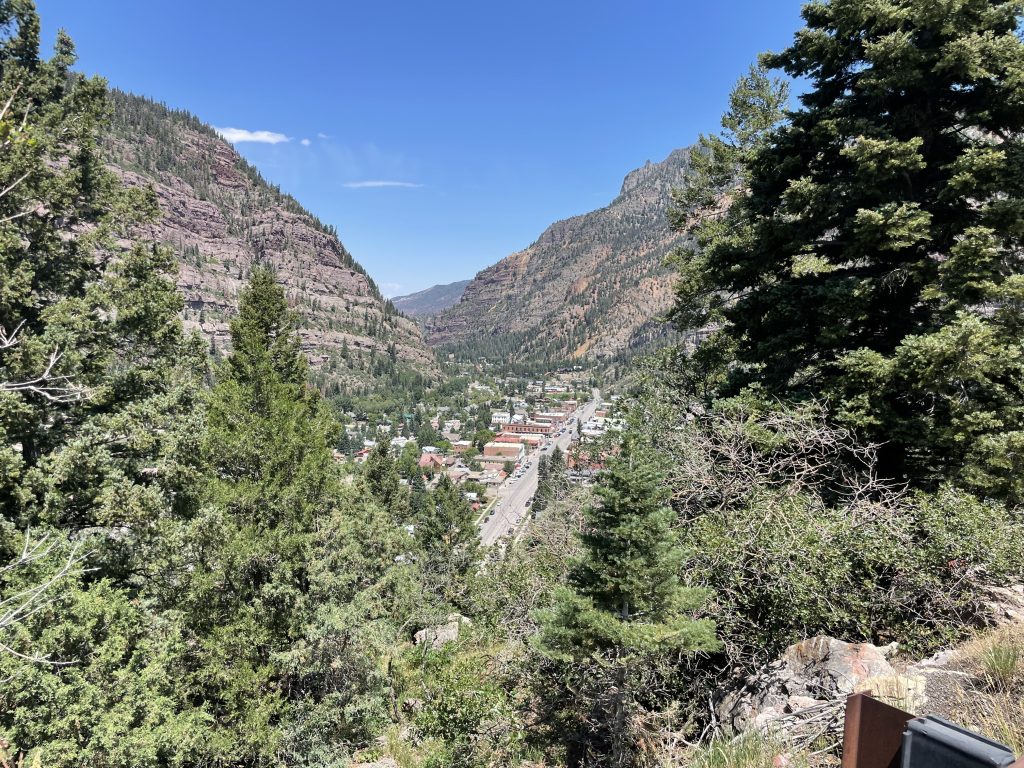 Adrenaline is a wonderful thing, and it enhances most experiences. It certainly added a bit of spice to the ascent of the highway – for which there are many disputed origin stories around the name. Some say there are $1m worth of gold ore in the rock used to create the road. Others that it cost $1m per mile to build. The locals told me (in Silverton, at the far end of the highway) that they would turn down an offer to pay them $1m to drive the road – which takes you over the San Juan Mountains, BTW – in snow conditions. Anyway – whatever the origination, the drive and the views were superlative.
Climbing all the way to the top takes you over Red Mountain. And it is very red. Iron ore abounds, and the place was mined for both iron and silver back in the day. The rock is oddly coloured, and maybe stands out more because it is surrounded by such green forest.
Anyway, I survived the ride somehow, and trundled down the other side of the San Juans to Silverton (other towns hinting at the mineral history include Ironton and Anvil Mountain). Silverton is a pretty little town with a busy (for a Monday) high street sporting lots of eateries and souvenir shops. I stopped at a Harley Davidson shop which claims to be the worlds highest. It only sold apparel – but that was OK, cos I needed a new pair of summer riding gloves. My current pair, which I bought years ago in the UK, have split and my fingers are poking through.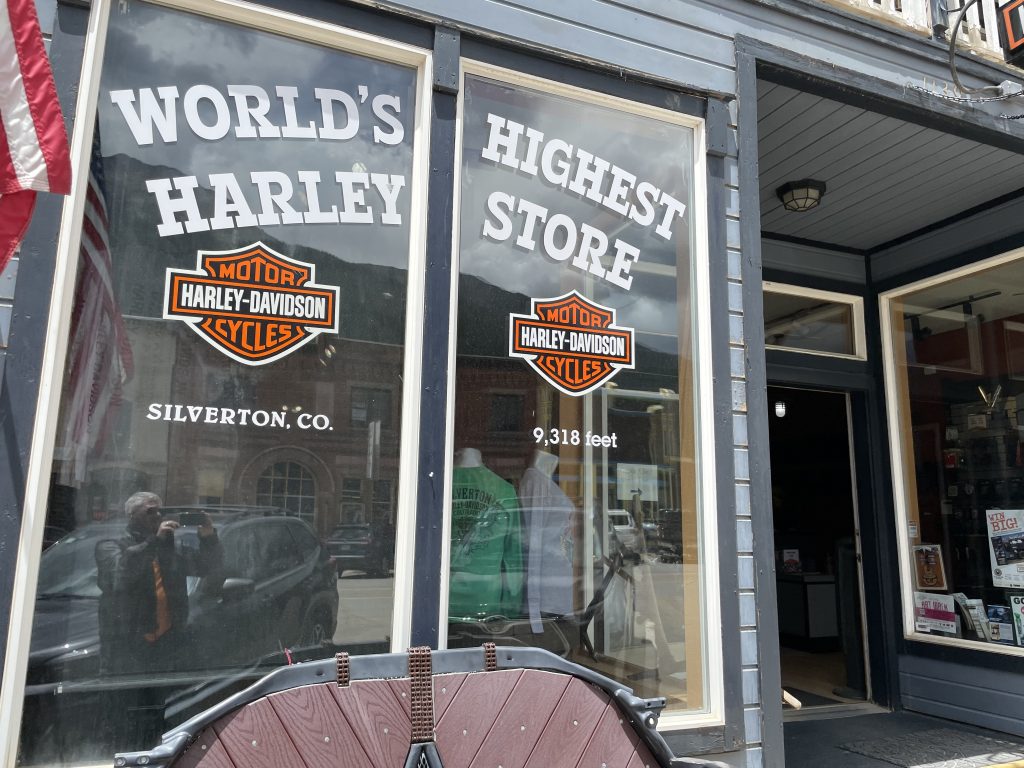 Harley D does some things really well – including having the thumb very heavily on the scale when pricing anything. The gloves probably cost a 3 bucks to make (well, I am sure they pay the Chinese kids 10c per glove), but cost me the best part of $50. They are comfy and breezy, so I am happy with the investment. The lady in the Harley shop recommended an eatery – but that was sporting a queue with wait times of almost an hour, so I opted to try a nearby pub instead. Pizza was fine, and their iced water was among the best I had all day.
Upon leaving said establishment, the heavens had opened up and I experienced a downpour for the first time on my trip. My next stop was Durango, over another pretty steep pass,and upon checking my trusty Apple weather app I understood that the rain was going nowhere, so I zipped up my jacket and hit the road.
The rain was not heavy, and though I have no wet-weather gear with me this trip I did not really get soaked. It has been so hot, so the cooling effect and the cloudy skies were very acceptable. Unfortunately, the steep and curvy road over the Coal Bank pass which led to Durango was undergoing roadworks, and to the surface was quite slick in places. Steep descents along slippy roads in rainy conditions do not make bikers happy, and I aged a year or two in the space of an hour – but didn't lose it anywhere.
At one stage, I had to find a level-ish and solid place to pull over and make a pit stop. My bike weighs 900 pounds unladen, and when you add the weight of 5 gallons of fuel, a few pints of oil, my luggage and road gear, and (of course) a couple of hundred pounds of me along with a leather jacket, boots, helmet and my armani undies – the two wheels making contact with a couple of inches of road are bearing a lot of weight. If I stop somewhere, I have to plan ahead and assess the position as I cannot reverse the bike, nor can I keep it upright if it tips over by a few degrees beyond my control points. Add wet conditions, and you can understand why I need to focus and be quite careful in how I ride and where I stop. Anyway, I did find a suitable place to glide off the road and park up for a quick wee. Having done the deed, I was about to remount – (and bear in mind that it was around 3pm) when I got a text from one of my parents (who shall remain nameless to protect his identity), basically saying "hey – where is the day 3 blog?". The cheek of it all. Almost makes me not want to post this now (but it is 5 to 10 at night and sleep beckons. Whatever. Needless to say, I made it down the other side in one piece after the rain and parental distraction.
Durango is a sprawling town in southern Colorado. I didn't expect much, but actually the downtown area had a nice vibe. I stopped there to spend far too much money on a new charger for my laptop, the previous charger having been abandoned somewhere between Colorado and Utah the day previously. There were motorcycle parking bays downtown, and I had to pay the princely minimum sum of $1 for 2 hours of parking. I only needed about 10 minutes worth, but even for 10 minutes, by London standards it was cheap.
A few miles beyond downtown was another Harley shop. This time, a bona-fide dealership selling actual bikes and a whole lot more. I bought a cup holder, which attaches to the handle bars. This is a very necessary investment – it is so goddam hot and dry most of the time, and I need to drink a lot. Each time I want to have a drink I need to stop the bike, open the luggage and have a swig of water. I now have my own cup-holder to take advantage of – but now I need to find a water bottle that has a straw type nozzle so that I can drink while riding without endangering myself or anyone else. Picture to follow.
Unusually for a Harley dealer, this place also had a sale on the go, so I bought a couple of local T-shirts for a total of 21 bucks- not bad at all for anything Harley. The final haul from Durango to my evenings accommodation took me though the border with New Mexico. Crossing into the next state on my world tour coincided within a few miles of the 700 mile mark on my tour. I am now at a total of 713 miles thus far on my tour.
I find myself re-thinking my "cheap and cheerful" accommodation policy. I turn 60 next year, and I reckon that I might just be too old for this shit. I am staying at decent place, but it is on an industrial estate a couple of miles from town, behind a Pepsi bottling plant. I kid you not. There is nothing walkable from here, so I had to hop on the bike again once unpacked, and ride to Safeway to get some food and beverage provisions. I think that in future I might be willing to invest a bit more and fund some reasonably located, half-acceptable places to lay my weary head to rest each night.
Once again, upload speeds and compute power means I don't have much of a set of rich media to share with you. I know it adds additional dimension to the blog, but come back in a few days and hopefully I will be able to embroider the sparkling verbiage with better visual accompaniment.
Night night all.
Link to todays map can be found here