OMG! OMFG! My mind is officially blown! The ride today, and the scenery it presented to me, outstrips any superlatives I could reach for. I use a set of maps from a company called Butler, who produce said maps for motorcyclists, on a State by State basis. They do 2 sets – off-road and road-only maps, and grade the rides, with the gold-level grade as the top recommended rides for motorcyclists in that particular State.
I purchased the relevant maps, and used them to plan out this trip, which stretches across Colorado, while also slipping in some forays into Utah and New Mexico. Today, my plan had included 3 "Gold" standard rides – The Grand Mesa Scenic Highway, Rimrock drive through the Colorado National Monument park, and the Colorado River Scenic Byway in Utah. Not only do I approve of the gold ratings for each of these three – and each were very different – but the scenery they presented were stunningly spectacular.
When I left Delta this morning, I wouldn't say I was in a particular hurry, but there is no reason to hang around there. Heading intially East for a bit, the road up to the Grand Mesa Scenic Highway turns north pretty quickly. About 20 minutes on the road brought me through Cedaredge, where I stopped at Connies Family diner for breakfast. And a jolly good breakfast it was. The daughter of the lady who runs the place was about 9 years old, and she was my server. The place was tiny, and to start with I was the only one there. The young lady was very on the ball, and very confident for a young'un, and I enjoyed her stories. She (mostly) talked about the food they make there, and how much she loves it. Anyway, she was pleasant company, and I enjoyed my American breakfast.
From Cedaredge, route 65 climbs up a wonderful and windy road, through cool forests, past the Mesa lakes. I saw a few deer, and stopped here and there for some views, enjoying the cool. Eventually the road topped out, and started to descend towards the high-plains and the oppressive heat. Down the big climb the road turned pretty much due west, and took me to I70 – the big Interstate Highway that runs from Baltimore on the East Coast, to a place somewhere in the middle of Utah. It was strange to be back on a big fast road, and it took me a little while to get used to it. I stopped at Palisade to get some water and cool down for a few minutes in a gas station shop, then rode a few miles more to Grand Junction.
Dropping off the I70 at Grand Junction, I rode through the town, and then turned onto Monument road, which takes you to – well – the Colorado National Monument. The first couple of miles or so of Monument rd had very recently been tarmac'd, and it was oily as hell. No issue for most people, but on a bike you are rather susceptible to slipping, and so I rode quite carefully until normal order was returned. I reached the gate to the Eastern entrance to the park, which surprised me.
I had read the map, and decided Rimrock Rd was for me, but had overlooked the fact that it was inside a National Park. Anyway, I was intending to purchase an annual pass for the National Parks next month, ahead of my parents visit. We are taking them to Arches, and the Grand Canyon, so seeing as though our existing pass had lapsed, I had planned to get one in August. However, I had to pay $20 to get into the Monument park, so just bought the annual pass anyway. $80, for a year, to enter any 0f the national parks, is a total bargain.
Anyway, duly armed with my new "America the Beautiful" pass (yes, really), I headed into the park. It was ridiculously hot here in the (relative) lowlands, and the speed limit in the park was low, so I was slowly boiling to death. I ride with a lightweight, quick-dry shirt under my biking jacket, and so I wet this and let the wind dry me while cooling at the same time. It doesn't really work, but I think it makes a difference psychologically, and it helped today.
Not knowing what to expect, the road climbed fast and in a very convoluted fashion, until suddenly I was presented with spectacular views of a major canyon, with high red walls towering hundreds of meters above the valley floor. I am tired after a long day baking in the sun, but even at my sparkling best I don't think I could do the scenery justice. The road does, indeed, run along the rim of this magnificent canyon, presenting views that are breathtaking. It is not comparable to the Grand Canyon for scale, but unlike the canyon you ride along the very edge of this wonderful scar that Nature has carved out of the rock.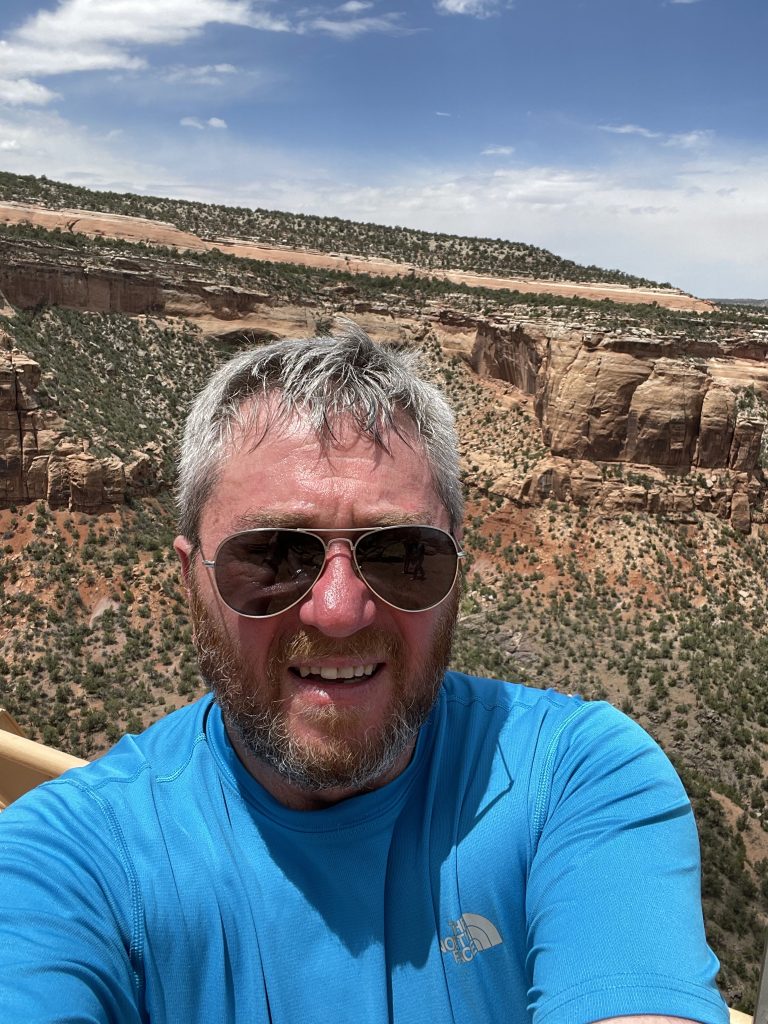 These pics will not convey the searing heat, nor the scale of what I experienced, but I hope they will do some justice to the landscape.
As is my wont, I chatted to various folk at the numerous stops I made along the rim at some of the viewpoints. Three lovely chaps from Mexico – one of whom now lives in the very Delta where I had sojourned the night previous – kept popping up at the same stops as me, and we exchanged chats and smiles along the way.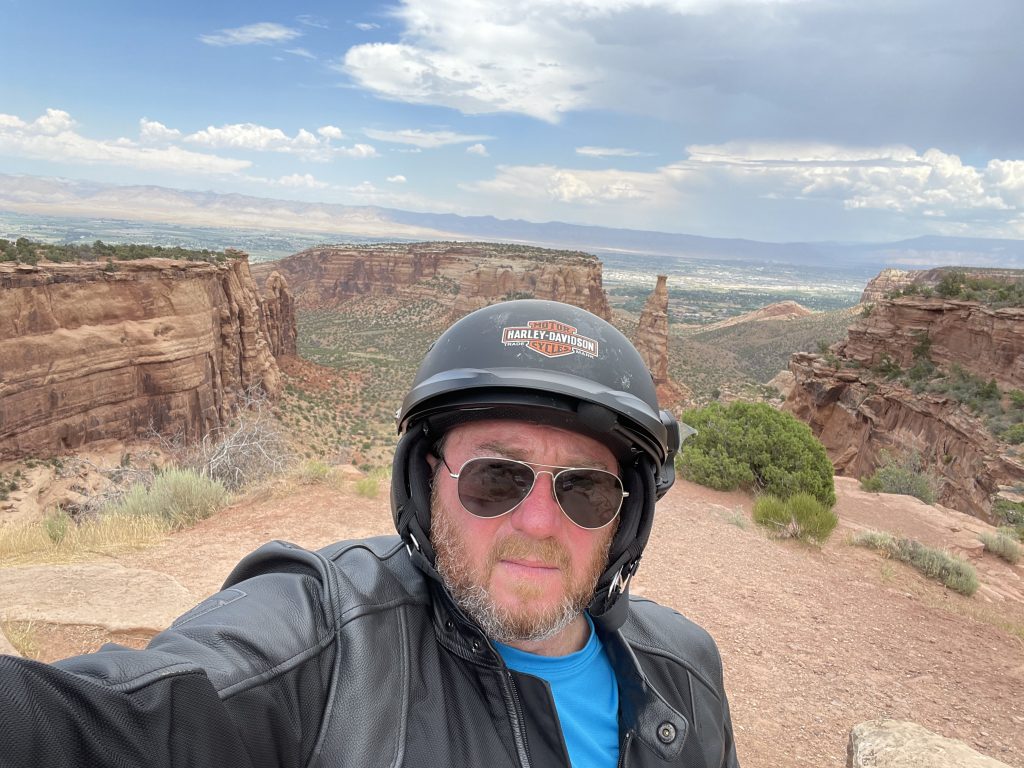 The descent from the rim back down to the floor of the high-plains was wonderful, and probably threw the tightest and most concentrated set of hairpins I have encountered so far on this trip. A couple of the switchbacks were actually cut through rock, which produce short but thrilling tunnels.
Down at the bottom I stopped at the first town for a break, to cool off and drink and eat. While on these road trips, I make it a policy not to eat at chain restaurants. Not only are local restaurants invariably of higher quality, but the folk you meet there are always genuine and interesting. I stopped at a shiny place for lunch, which was called the something Grill (can't quite remember). Anyway, it was a chain place in disguise. Well, I say disguise because I didn't recognise that the place was a fast food joint – but probably every American would have recognised it as a Dairy Queen. Once inside and realsing that it was a chain, I still decided to give it a try as I had never been into a Dairy Queen before. Suffice it to say, I will never venture into one again. Nuff said. Actually, one more thing – I left my MacBook charger there, so now I am trying to figure out how to get a charger in the wilderness.
After my highly delicious and nutritious (uh – not!!) lunch, I hopped onto the same I70 highway, and blasted west for about 35 miles. I crossed into Utah, where the speed limit went from 75 to 80 mph. So, these Mormons can handle some speed! I left the highway onto State road 128, and immediately wondered if I should have. Long, straight, not a soul in sight, the road shot through what looked like an alkaline desert. Nothing lives on the dusty land, and there was not a soul for miles. The road was not great either, and I was beginning to doubt my plan.
Suddenly, the long, straight path through the land of the dead turned into a road along the Colorado river. Broad and brown, the water was running pretty fast.
One of the reasons that I bought this particular bike is that it has a great sound system. I can control my Spotify app through the bikes entertainment system, and I have a playlist for biking trips that is (currently) 40 hours long. I love having some good rockin' music to accompany my rides, and as I neared the Colorado river, the Doors song, "Riders on the Storm", started playing. The weather had been overcast for a while, but literally as the song started, so the rains began.
Big, heavy and intermittent drops splashed me in the face. I didn't mind as it was cooling, and didn't last very long. The road alongside the river turned into a canyon, with the walls swiftly rising until they were hundered of feet high on both sides. The river did not run straight, and the road and rock walls meandered for miles, creating amazing views and giving a stunning sense of the work a river has to do over millions of years to carve a pathway out of the stone. The rock is red and obviously rich with iron, and the afternoon sun lit the walls in wonderful contrasting highlights.
Eventually the canyon opened up, and brought me to scenery that was straight out of a traditional Western movie. High Mesa rocks with carved fingers and steep walls contrasted with a broody sky. I had to stop and just take in the expanse and alien nature of the beauty beholden. Once more, words are not sufficient.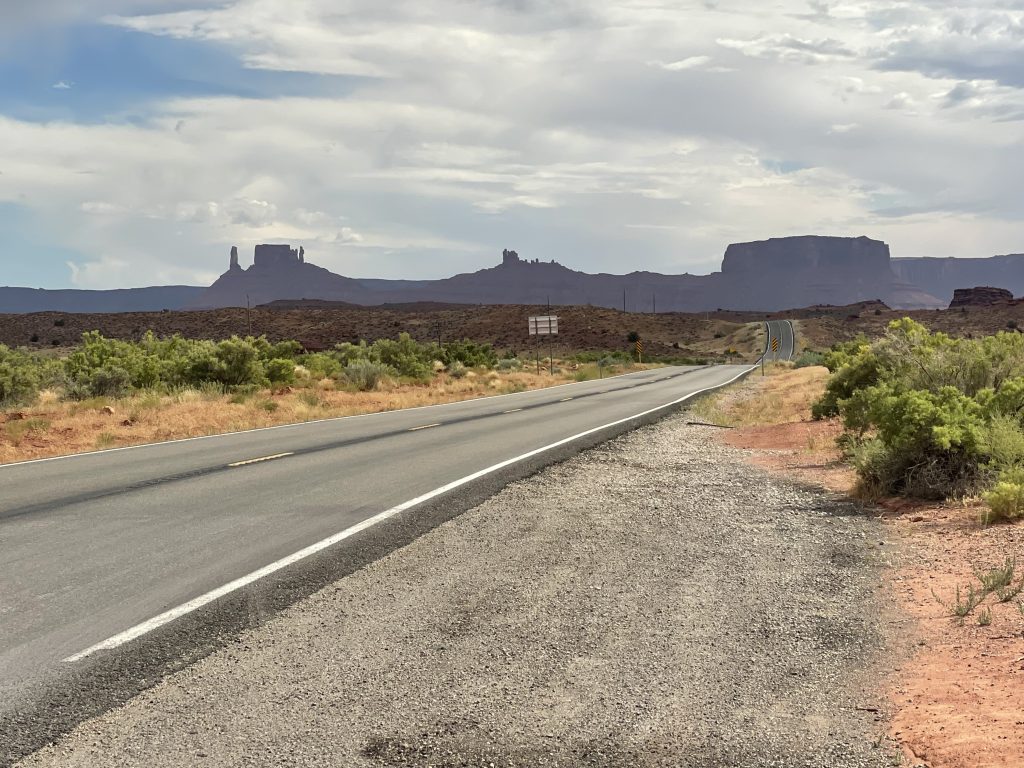 About 25 miles along more windy river canyon road brought me to Moab. It is a well developed town, serving the needs of the many many people who come for the scenery and outdoor activities that the area provides. The obligatory fuel stop preceded arriving at the nights budget hotel. A few folk were milling around outside the office, and informed me that they had been there for an hour, and could not find anyone to check them in. We waited about 20 minutes, while I continued to melt in my riding gear, at which stage I called the online travel site I use for my bookings, and had them cancel the hotel reservation and find me an alternative nearby.
The aforesaid establishment was a 1 star hotel in the middle of Moab – well located, and (as I explained yesterday) not expected to provide much in the way of comforts and facilities. Serendipity would have it that the alternative that the agency found me, which was two blocks away, was a well appointed 3-star place, complete with swimming pool. I was feeling much like a boiled lobster by the time I checked in, so I threw my gear into my (pretty nice) room, and headed to the pool, where I cooled off and floated happily for half an hour.
Across the road is a Smokehouse, so a nice meal of BBQ'd ribs, coleslaw and fried was accompanied by a large frozen margarita. A great end to a wonderful day. I am very ready for bed, so g'night y'all. See you tomorrow.
A map of todays ride can be found here