And we are off. Well, I am. This is a solo tour, which is what I wanted, but I guess we can count both the bike and me, so yes – we are off and underway.
Lena was up early as she was headed into Denver to do a 5k race. BTW – she did really well and got a great time – under 30 minutes for a 5k. Anyway, it meant that I got up early too, so did some dog things, observed my sacred breakfast rituals, and then was free to faff with the bike and my packing. I got the bike mostly loaded and ready, then took Luna for a short walk, before completing my prep, and heading out into the great wide open.
The first couple of hours were very familiar – though still pretty.I joined Highway 285 a couple of miles from home, and rode southwesterly through Fairplay to Buena Vista, where I refueled. After Buena, I broke new ground, and turned north for a couple of miles, before turning west towards Cottonwood Pass.
Buena Vista is just below 8000 ft altitude, and the climb to the top of Cottonwood, which is at 12,126 ft, was spectacular. Just the right combination of sweeping bends, amazing views, and tight hairpins, the ascent was rewarded with a stop at the top to experience the majestic scenery. Cottonwood Pass straddles the continental divide, so that water that falls on the east side runs to the Atlantic, and the West to the Pacific. A standard National Forest sign indicates the divide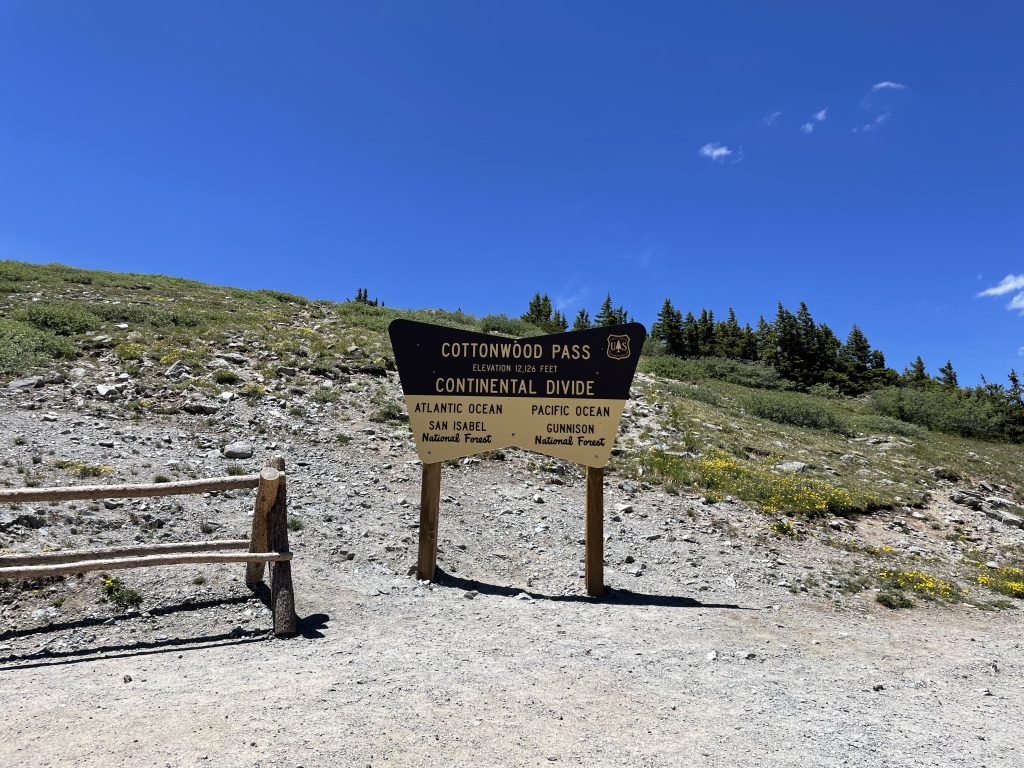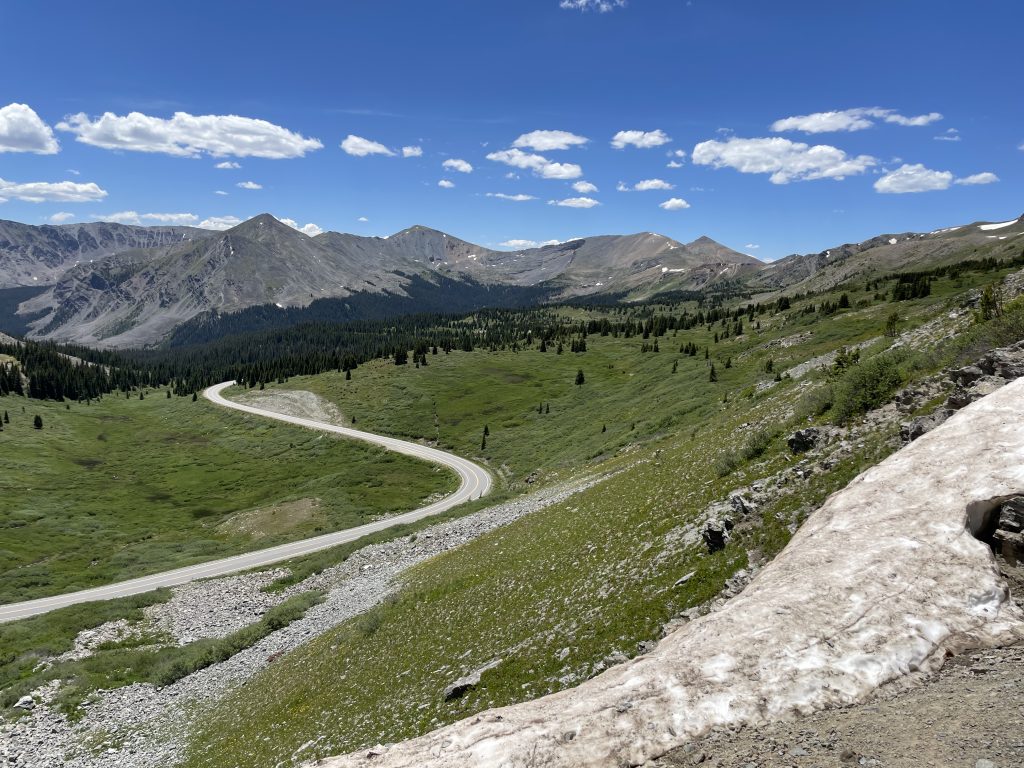 I met a fellow biker at the summit of Cottonwood Pass, who had ridden from LA, and was headed in the opposite direction to me, ultimately destined for Ohio. He was a film-maker, and we chatted briefly about his GoPro setup. I got a GoPro for this trip, and have hours and hours of video already captured that I need to figure out. Once I do, I might post some video here – or a link to Youtube with any videos on there.
I rolled down the other side of the pass, and again enjoyed the twisty road and views. At the lower end, I turned SW once more, and made my way along to Gunnison. Here, I stopped for a late lunch and to have a break from the heat and the saddle, and had a chicken sandwich and a rather decent lemonade.
Gunnison sits on a river of the same name, which has been dammed a little further west, and has created a spectacular set of features and beaches. The dam is called the Blue Mesa, and is the largest body of water in Colorado. A lovely ride along the water took me as far as the dam wall, which I crossed by leaving the popular route, and headed up the Black Canyon road which sits very high above the river on the north bank.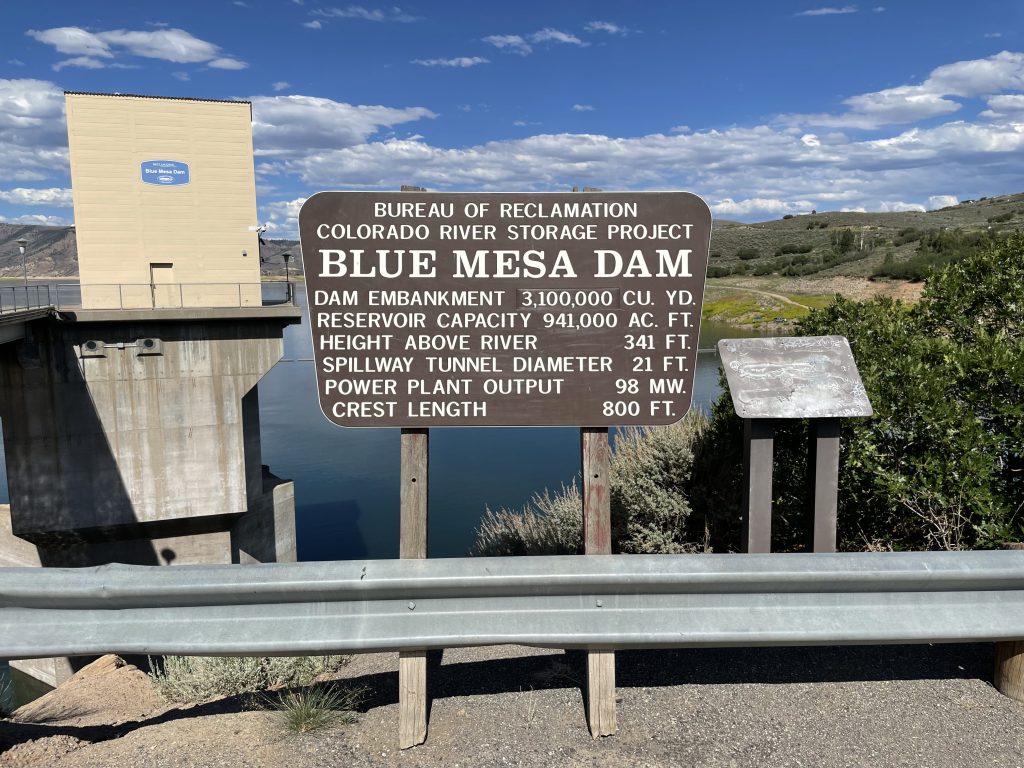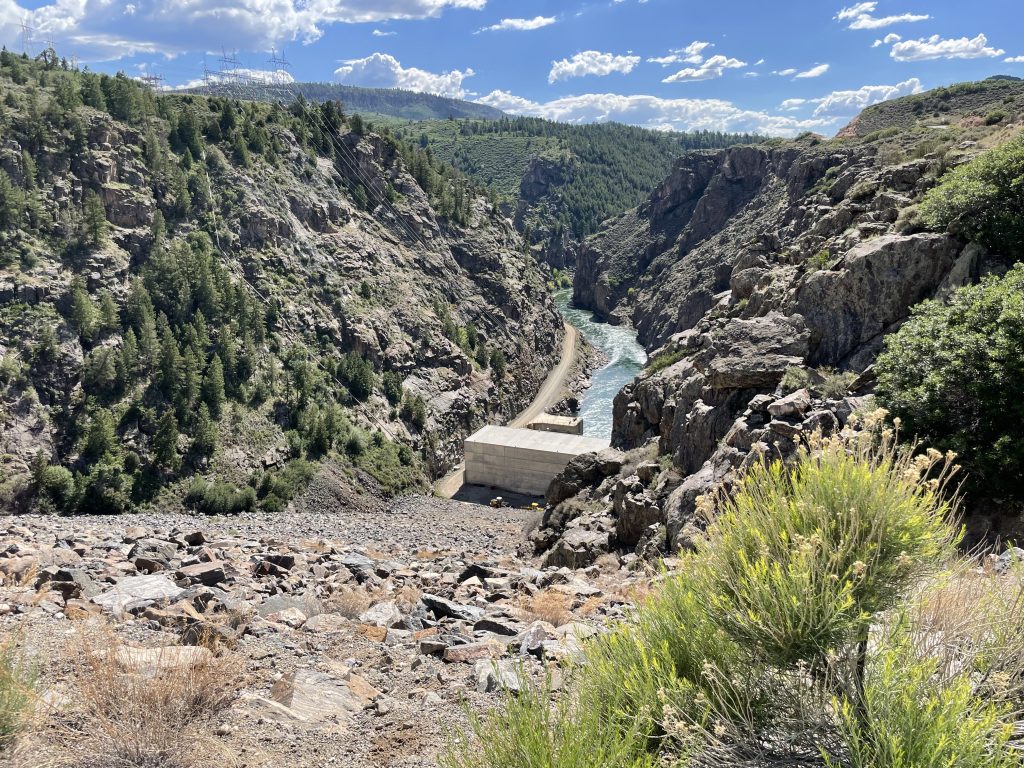 This part of the ride was another highlight of my day. Very quiet – I did not see many vehicles – it offered lovely, steep and twisty roads and amazing views. I rode high above the canyon for an hour, and stopped at a couple of scenic viewpoints along the way.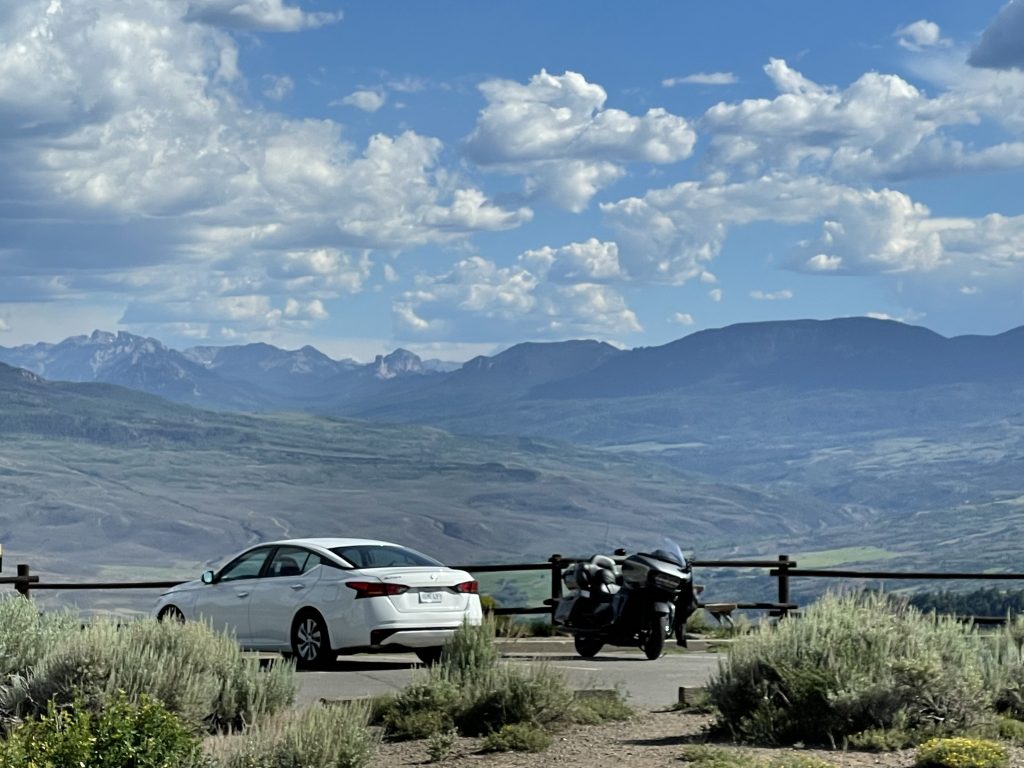 The last hour of the day was somewhat boring in terms of scenery and road-enjoyability. Long, straight roads led me north to Hotchkiss, and then west to Delta. I arrived in Delta around 6:30 in the pm, and stopped to fill up my bike to I can start the day tomorrow without worrying about a full tank. It was 37c (thats 98f for those of you in metric denial – and yes, I know I am logging the days progress in miles), and I was rapidly melting. My hotel was only a few minutes way, but by the time I got here, I felt like heat stroke and sunstroke were almost upon me. I managed to stagger off the bike, scoop up some key belongings, and checked in. Fortunately there was a water fountain with cold water in reception, so I drank a couple of gallons and filled up my waterbottle for good measure.
When I say hotel, I mean that on the loosest possible sense. When doing bike tours, I tend to favour 'cheap and cheerful' accommodation. Not always, but usually you arrive pretty tired, need a shower, a beer and some food, and a bed – and then you set off again early the next day. No point in spending money on a place with lovely facilities and good service when you are not really going to take advantage of said service and facilities. Anyway, my room is pretty basic, the aircon took about 3 hours to cool the room down, and I think the furniture has been in this room since the early 80's – but it is functional, clean and I am going to sleep like a king no matter what, so there you go.
Supermarket next door provided me with a salad and 2 tins of cold beer, so that I could type this, and not be distracted by the many highlights of Delta, CO. Who knew? Anyway, Dearly Beloveds, I am going to post this, and then go and try to figure out all the video that (hopefully) was captured on my GoPro camera today.
See ya tomorrow.
Here is a link to the map of todays route, if you are so inclined.