As we were in Cape Town for a few days, we decided to hire a couple of bikes and hit the roads. We both went for Harley Davidsons:- I opted for a Softail Heritage Classic very similar to my own (though a few years older), and Lena went for a Sportster 883. Well, that was what she decided on as it was the smallest Harley the hire shop had, and she had only ridden up to a 650 previously. However, the rental folk had recently acquired a new Sportster 1200 and decided to substitute that for her 883, so she was riding a bike with an engine pretty much twice the size of anything she had ridden before. Fortunately, the Sportster is a pretty lightweight bike, so she didn't have to wrestle with it too much.
We picked up the bikes from GS Africa, about 5 minutes from our hotel. I had done most of the paperwork beforehand, and so it didn't take long to get out on the road. We had brought our own jackets, boots, gloves and helmets, which meant we were still blue-toothed together and able to chat on the radios the whole way. We rode out of town over Kloof Nek, the narrow pass between Table Mountain and Lions Head, then headed along the beautiful coast towards Hout Bay, about 25 minutes away.
At Hout Bay we pulled into a layby next to a cafe called Casareccio. Next to a Harley shop, there were a few bikers sat out having coffee, as well as a few civilians. We were here to meet cousin Roni and her boyfriend Art, who had also hired a bike (a Softail Heritage very similar to mine) and were going to join us for our two days of touring. Art is an experience biker from the USA, and we quickly got acquainted over stories of bikes and biking. Roni was a willing passenger, and after a coffee we saddled up and hit the road.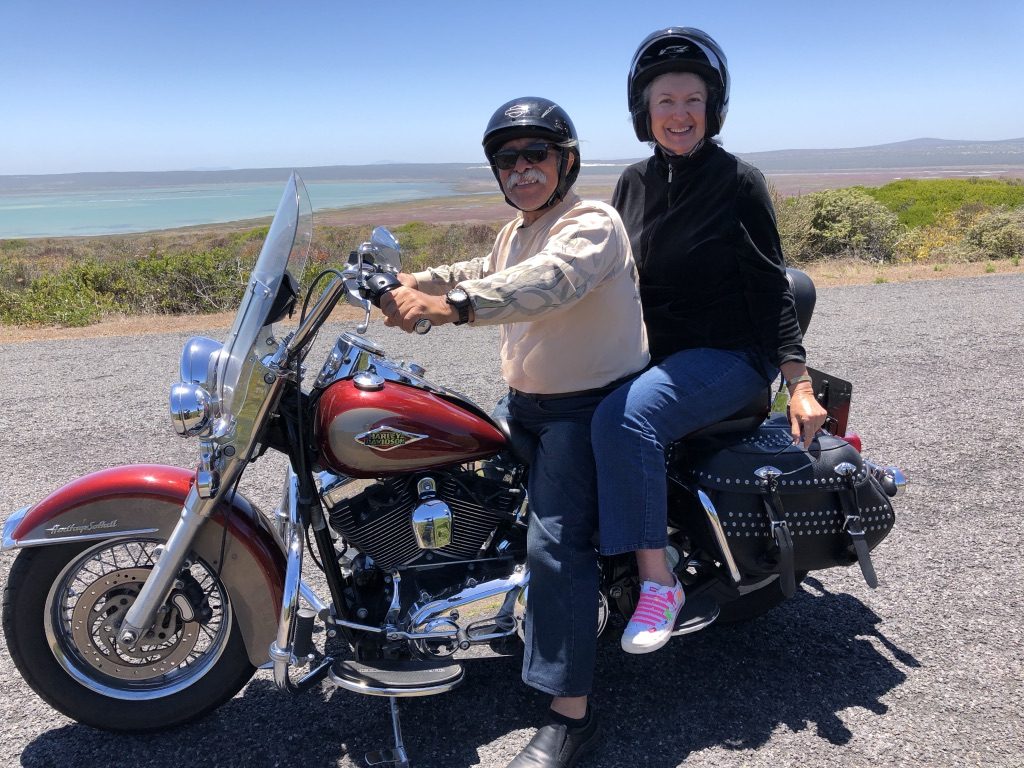 Todays destination was Langebaan and the West Coast National Park. Not so much a bikers delight, much of the rod was flat and striaght, but a beautiful target. The early part of the ride was great though, hugging the eastern side of Table Mountain as we headed north back towards Cape Town. Once through the city and onto the R27, we stayed roughly North by North East for about 90 kms before arriving at the Nature Reserve.
I felt a bit bad as we drove into the park. My bike had pretty loud exhaust pipes, so any wildlife would have heard us coming miles away. however, most of the wildlife was hiding from the sun, and most of the visitors were heading for the white sandy beaches alongside the beautiful inlet from Saldanha bay. We did see a large Eland close to the road, as well as a seagull, a small tortoise crossing the road, and what we refer in my family as an LBJ (a little brown jobbie – a small and nondescript bird that my father could identify and provide the equivalent of 40 pages of wikipedia information on from memory). Fortunately my Dad was not present, so we were uninterrupted by birdopedia and enjoyed stunning views of the sea on one side and the lagoon on the other.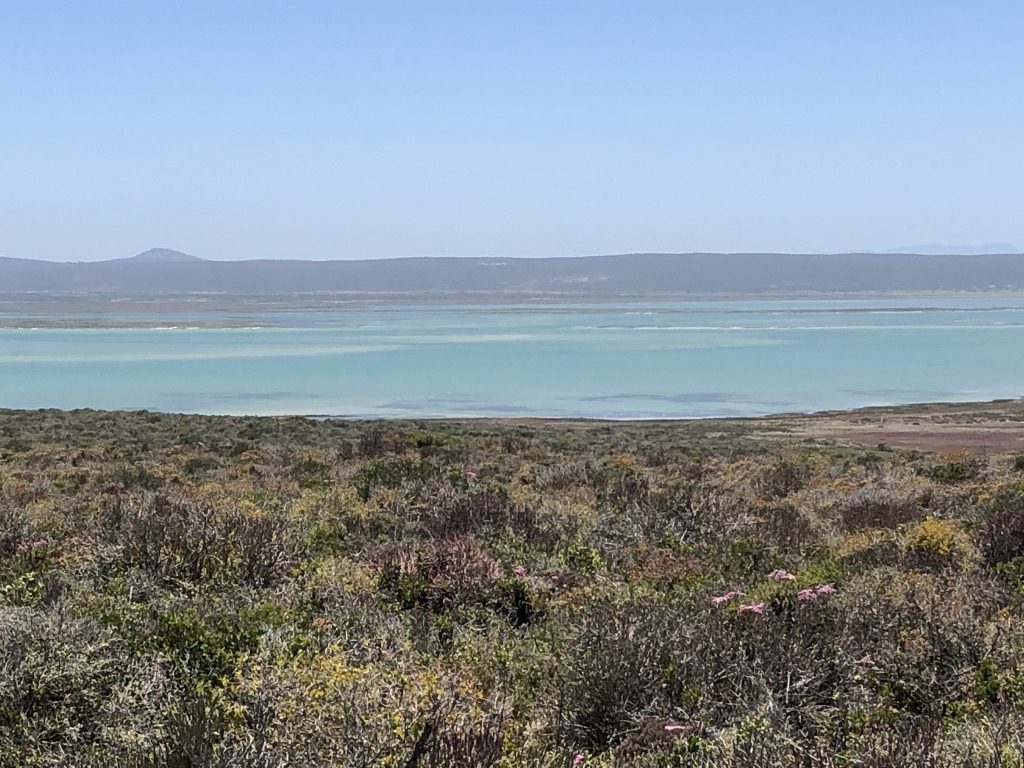 The beaches were pretty crowded, but we stopped at Kraalbaai for a bit of sunning and swimming. Art and I lay in the sun, in full biker regalia so as not to burn too much, while Roni and Lena went into the pretty blue water for a wade. They were out for about half an hour, after which we got back on the bikes and rode all the way around the inlet and back to Langebaan, which was on the opposite side to Kraalbaai. An easy lunch followed, then we topped up petrol and hit the long, straight R27 road back towards Cape Town.
We turned off the main road near Melkbosstrand, 20 ish KM's outside Cape Town, and rode along the smaller coastal road. The views from here, across Table Bay towards the Mountain are spectacular. We stopped near Big Bay to take some pictures, and were ambushed by a newly married couple and their photographer, who wanted to take some impromptu pics with the bikes.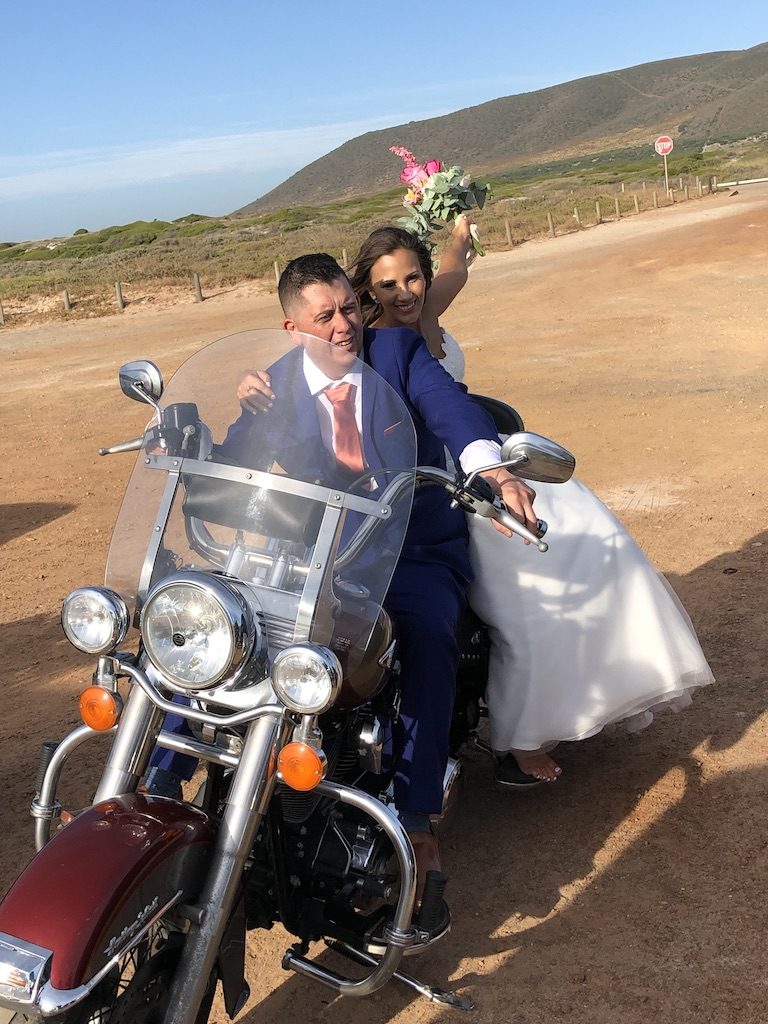 We obliged, wished them well, and then enjoyed the beautiful mountain and bay vistas for a while, before our final leg back to Cape Town.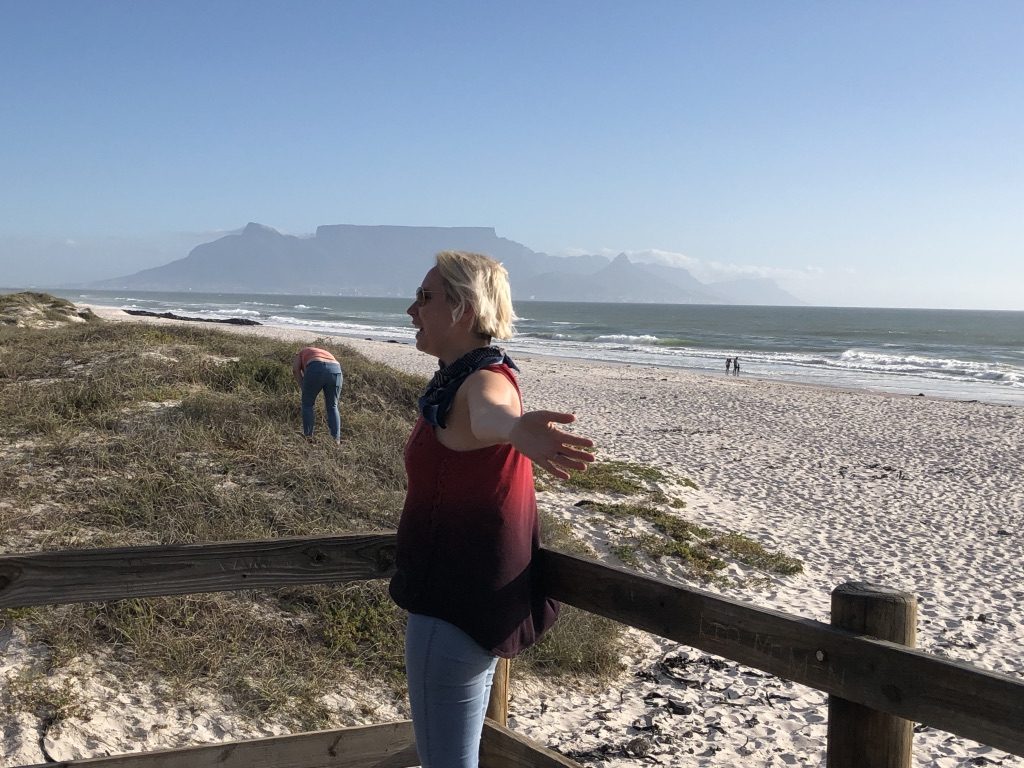 We parked up outside the hotel, and popped in for a quick wash and change of sweaty clothes before heading to Camps Bay for a lovely supper with Roni and Art in a great restaurant called Paranga.
I managed to get my nose and a small strip on my left wrist quite sunburned, and look like Rudolph the red-nosed reindeer.