1346 biker miles since leaving London on Friday 17th August.
Today was pretty much the opposite of yesterday. We woke to sunshine, which was a good start. Nice breakfast, a few photos on the sunny deck outside, and then we walked in to the lovely little town of Fort William for an errand.
Lena purchased a metal cut-out of a highland cows head at the rally in Aviemore. It was too big to fit in any of the bags we have, so it had been strapped to the outside of her luggage for a few days. We were finally in a place with an open Post Office, and though computers were down and collection days were not aligned, we managed to wrap and post the cow to London, and we will collect on the other side.
Back in our room, much of our stuff – other than boots and gloves – was dry. We packed, loaded up, then put the final bits of wet gear on, and saddled up for the day. It was a bit of a mix of rain and sun for a while, but the weather improved throughout the day.
Southward along Loch Linnhe, then through Glencoe and up the great glen towards Rannoch moor. Wild, beautiful nature at its finest. W had various photo stops along the way, and lunch at the bridge of Orchy.
We had been retracing our steps for part of the route, and rode through Tyndrum and alongside Loch Tay, which was as stunningly attractive as our first pass. Through the wooded roads towards Aberfeldy we then headed, and made a stop at Grandtully, to visit the Highland Chocolatier – apparently the best chocolates in Scotland.
A quirky shop, selling beautifully made chocolates, as well as a cafe selling various of their wares, tasting menus and more. We had a drink and some delicious choccy, then rode the last ten miles to Pitlochry in glorious summer sun. It was almost as if the rain didn't happen (except that my boots are still damp inside).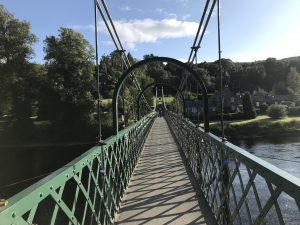 My old mate Gus, who lives in Edinburgh, had ridden up to meet us. We checked in to our nice B&B, then had a walk with Gus down to the river. A nice stroll led us to a good steakhouse, and we three proceeded to eat fare fit for a king.
Gus had to get back to his B&B, so he left us for the evening, and we are now readying for sleep. We will meet Gus again in the morning, and head with him back to Portobello in Edinburgh for our last night in Scotland. A lovely, satisfying day.