Slow start to the day. We pottered and showered and generally took it easy, and breakfast was a bacon buttie from one of the stalls at the rally. We had a bit of a stroll, then went back to our room to get ready for todays guided ride.
About 25-30 bikes met at the identified point, and waited until everyone was present. There were a number of rally VIP's (sponsors, Harley Davidson bigwigs and the like) who rode pillion with some of the organisers, and it took a while to get them all helmets, so we were a bit delayed in setting off. We had a briefing (boiled down to "ride safely, don't be an eejit"), and then we set off.
True to form, we set off as the rain started up again. It drizzled for much of the way, and indeed continued for most of the visit. A pretty ride of about 12 miles or so to Kingussie, where we turned off the main roads, and completed the journey on smaller tracks. We passed a ruined structure, the Ruthven Barracks, which had been destroyed by the Jacobites the day after Culodden, but still stands in decent condition to this day.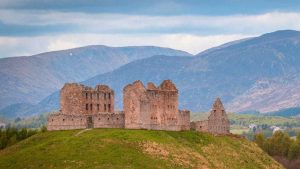 A mile past the barracks, we turned into the grounds of the distillery. It is a small, privately owned distillery, and considers itself to be a boutique producer. The family who own the distillery are the Harvey family, who have been in the whisky business one way or another for 250 years. Their name is best known on Harveys Bristol Cream sherry, and they bought this place four and a half years ago.
The owner was very welcoming, and has sponsored tours from the rally for the past few years, so he had built a good relationship with the rally organisers. The distillery do not do many public tours, so it was a privilege to be shown around this beautiful location, and given access to their full production facility.
An interesting tour with the owner, master distiller and Managing Director was followed by an informal gathering to chat, and lovely tea/coffee and sandwiches were provided. They recognised that most of the attendees were riders who did not want to taste a wee dram while riding, so they gave us each a small sample bottle of one of their creations, Beinn Dubh (black mountain) – a dark whisky which I will sample shortly and report back on.
We rode back in heavy rain, and retired to our rooms to rest, have hot baths, and make ourselves pretty for the final nights party.