By yon bonnie banks, and by yon bonnie braes, where the sun shines bright on Loch Lomond. The bonnie bonnie banks awaited us this morning, and boy, were they bonnie. We woke up without an alarm, packed up and then had our locally smoked salmon and scrambled eggs for breakfast. We walked the 5 minutes back down to the loch, and waited for our vessel to come collect us from the pier. The boat pulled up just before 10, and about 8 folk went on board – it was built for probably 40-50 folk, but it was the first sailing of the day, and a Monday morning, so we were not surprised to have a small tour.
We sailed for 90 minutes between some very pretty islands – we left Luss in a southerly direction, sailed as far as an Island called Inchcailloch where half the tour left to go for a walk and a picnic, to be collected later by the boat on a future trip. We continued our tour, and learned a lot of interesting facts about the loch.
One of the islands is successfully inhabited by wallabies. Yes, you read that right – the bouncy Australian marsupial. Much of the area has been owned by the Colquhoun for centuries – they built Luss as a workers town for people employed by the Laird. Pronounced Cahoon, they have owned much of the lands around Loch Lomond since the early 1300's. One of the ladies of the clan visited Australia in the 1940's, and brought back some wallabies, which were released on Inchconachan, one of the islands on the loch, and they have bred successfully since. So successfully, in fact, that they have to be culled from time to time to control the population.
We sailed past Balmaha, a small town very important to Scotlands identity. Balmaha marks the divide between the Highlands and the Lowlands of Scotland, and thus is forever noted as a key marker. We also were lucky enough to see an Osprey flying and landing near its nest.
Duly delivered back to Luss on the Lomond shore after an hour and a half, we walked back to the hotel to collect our belongings, ready the bikes and ourselves, and set off at midday for our next stage. We were heading for Lochgilphead today, but took a slightly longer route than necessary, because we had the time, and wanted to ride some pretty roads.
And pretty roads were indeed ridden. We hugged the side of Loch Lomond heading north. The sun came and went,  and there was a fair amount of traffic, but that didn't diminish the joy of riding right alongside the water, along lovely forested, curving roads that are a motorbikers dream. We passed the northernmost end of the loch, and went through more pretty roads to Crianlarich. We stopped at Tyndrum, at a roadhouse that I have frequented before. The Green Welly cafe is well known in the area, and we had lunch here today.
Parking up, I pulled in next to a nicely customised Harley Switchback, a bike with which I was not familiar. It had a number of custom frills added to it, and looked great. We met the owner as we went into the cafe, and had a quick chat.
Lunch was soup and a meat pie (Cullen Skink, a smoked fish soup for Lena, and a veg soup for me). Suitably full, we set off again, riding towards Oban, but then turned left to ride down the side of Loch Awe towards our final stop of the day. A wonderful bikers road ran parallel with the lochside, and we stopped to get lovely views of a ruined castle on the loch – Castle Kilchurn.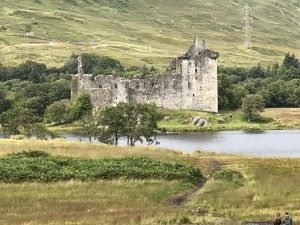 Off again, we rode about 15 miles to Loch Fyne, and stopped the little town of Inverary on the loch, I have visited a few times before, and even been into the jail – now a museum – with Ben on our tour about 7 or 8 years ago. It is a very pretty town, and we parked the bikes on the waterside where we found a whole bunch of bikers, including the folk we met at the Green Welly.
We had a coffee and an ice cream, and then rode our last leg of about 20 miles or so to Lochgilphead. Another great biking road, I got a bit excited by the corners and left Lena a bit behind. I do encourage her not to ride beyond her comfort zone, she has to learn to ride safely, but I have a lot more experience and so I did open the throttle in a few places and ate up some delicious corners.
We got to our B&B just after 4:15 pm. Jim, our lovely host, welcomed us, showed us where to park our bikes and then gave us a quick briefing. We are just blogging up the day, and then are going to go for a walk and a bite to eat.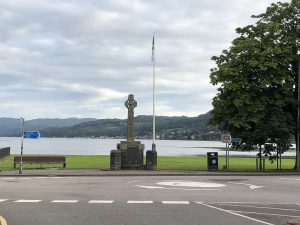 Another really wonderful day on the bikes, no rain, some sun, great roads, spectacular views, and pistachio ice cream. See you tomorrow.