Greetings from a grey and overcast West Yorkshire. We are lying in a cosy bed, provided by my daughter and her partner. They moved in to their new home a few weeks ago, and this is our first visit to see them in their lovely house.
We got up today full of excitement, ready to finally start our bike trip. We have been planning for months, acquired new bikes (and a bike license), been practising riding in convoy, and were fully ready to roll. We packed everything for the road, went down to the garage where we keep our bikes, and readied them.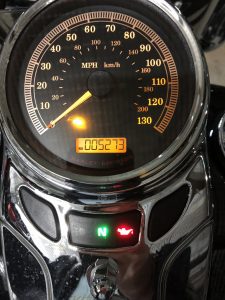 Unfortunately, we had to work today – no easy start to our holiday, so we rode in to central London in the glorious sunshine, and I accompanied Lena to her work before riding down to the Aldwych to park up next to my office. The day passed slowly as I tried to finish off all of my final tasks while doing my best to keep focussed, rather than re-checking my trip plans, routes, accommodation bookings, weather forecasts, tidal charts, wildlife guides, language tutorials, ferry timetables and more. I did the best I could under trying circumstances, and finally, just after 4pm, I closed my laptop, and headed out the door.
Lena's work is only about 8 minutes from mine, and when I got there she was all ready to ride, so I selected the day 1 route on the TomTom Satnav, and we were finally rolling. Leaving London via the road on a Friday night in summer as the rush-hour begins is not the smartest move one could make, but hey-ho. We weaved, crawled, filtered and dodged our way through the suburbs heading north, and actually got to the origin of the M1 motorway in a decent time.
From here, it was motorway all the way. There were various patches of bad traffic, and a bunch of roadworks to keep us slowed. It felt like a long ride, and got dark (as much due to the thick cloud cover as to the setting of the sun) before 8. Lena is still pretty inexperienced as a rider, and the unlit motorway was a bit daunting at times, so she felt more comfortable going at lower speeds. I am sure the 2000 something miles we will do on this trip will help her confidence, but it got quite cold as well, which we weren't ready for.
We stopped for supper near Leicester, and raided our bags for various layers, and I also got my winter gloves out. An unsurprisingly mediocre motorway dinner later, we were back on the road. A combination of full tummies, tea and more clothing layers made the journey a bit easier, and we zoomed along the last 90 minutes of the trip pretty well, arriving in a very familiar part of Yorkshire around 10:40 pm. We rode past our old house and local pub – the Vol in Copley – before arriving at Span and Priya.
Lena was pretty exhausted from the days work, the adrenalin of a long night ride and the nerves of a relatively new rider, so she retired immediately. I had a lovely catch-up with the girls, and had a tour of the new home, which I love. They booked yesterday (along with number 2 daughter) to join Lena and I in South Africa at the end of the year on our holiday there, so we did some more planning around that as well. Finally, around 01:00 am I made the sensible decision to go to bed. G'night all, see you later.