Last day. We woke up in our lovely room overlooking the garden of the house we stayed in. Another blue-sky day outside. We packed our gear for the final time, and then went for breakfast. Nell, the 3 month old French Bulldog puppy of the owners was the morning entertainment, and she certainly was very sweet.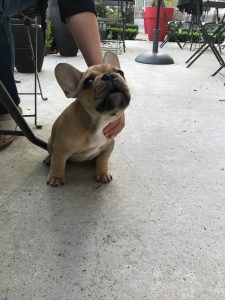 Having broken our fast in the lovely garden, and suitably interfered with Nell, we loaded up, and hit the road. Arras centre was still a ghost town, and we were back on the motorway steaming northbound very quickly. The road is good, and there was not a lot of traffic so the 110 km to the Eurotunnel terminal was easy going, and passed by in a flash. We checked in, showed our passports to the relevant officials, and just had time for a wee before we were called to our train.
Us and one other bike with a couple on board were at the very back of the queue. A crew of about 15 bikes were just ahead of us – they had spent a long weekend on a Benelux tour, and were heading home. We loaded onto the train, and I had a chat with some of the chaps around us. We admired each others bikes, swapped war stories and talked about the kinds of things that bikers talk about.
The journey seemed to pass by in a flash, and soon enough we were rolling off the train. England was please to see us, and had brought out the sunshine as a welcome. The journery home was pretty quick – about 80 minutes. The last ten minutes was actually superfluous, but I had forgotten to tell Sally Satnav that we moved to a new apartment a few weeks before the holiday, so I was un-thinkingly heading back to our old place until I realised where we were going.
A quick stop for fuel and some sandwiches (the fridge was going to be bare at home), and we arrived home at lunchtime, to a happy but vocal cat.
It has been a wonderful, special holiday, and I am sorry that it has come to an end, but the memories and experiences will carry on. I am still going to write a few more posts about the trip, I will update and refresh photos and galleries, and otherwise entertain you with my sparkling wit and charming writing style. Auf Wiedersehen, faithful readers.