Another bike-less day on our biking holiday. Last day at the (Italian) lakes today, and it was a glorious one. The sun shone, the skies were blue, the birdies sang and the cotton was high. We had a lazy morning, skipping breakfast to chill, swim and browse the webs. Late morning we got dressed, and walked into Baveno, about 1.3 km away.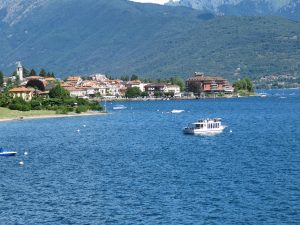 Baveno is actually further from our hotel than our destination for today. Isola Superiore o dei Pescatori lies 713 metres from our balcony (according to google maps, and google does know a thing or two), in the middle of Lake Maggiore. So, in order to get there, we could swim (nope) or get the boat, which goes from Baveno – hence the trek.
It took us 20 minutes to walk to Baveno, and then 5 minutes to ride the ferry to the island. With a population of 57, it is the only Borromean island that is populated all year round. Trip advisor shows 17 restaurants on the island, which is only 375 metres long. Along with a few hotels and a lot of tourist stalls, we saw a church and not much else.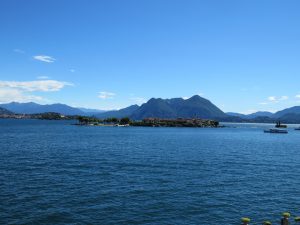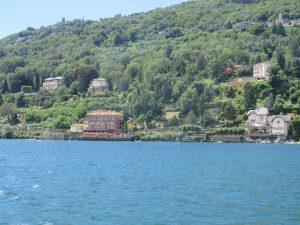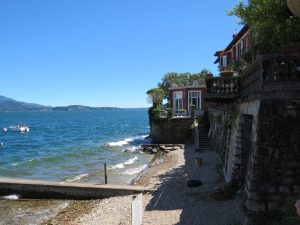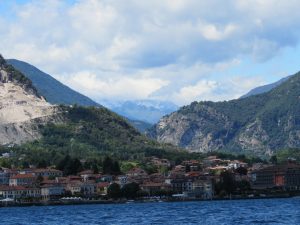 This little island is rather pretty, and offers great views in all directions. The Borromeo family began acquiring the 5 islands in this part of the lake, but now this one is the only island that does not belong to the family. It is still referred to as one of the Borromean set, though. Itt's name refers to the fisherman who have traditionally populated the island.
A typical lunch awaited us at one of the seaside eateries. I particularly loved the Bresaola which is local to this area. YUM!! We then strolled around the island in about 15 minutes, which included about 13 minutes of (not me) browsing stalls for souvenirs and junk and postcards.
A bit of a relax in the sun, and we then boated back to Baveno, and walked back to our hotel, where we continued the long-standing days tradition of relaxing in the sun and swimming. Episode 1 of Series 7 of Game of Thrones was view-able despite the low-rent internet connection, so I watched that before we walked back to Baveno for dinner.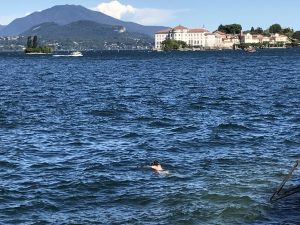 Tomorrow we head up the Simplon pass to Switzerland, and will end up tomorrow eve at the top of the Great St Bernard Pass, in the 1000 year-old inn which gave its name to the mountain rescue dog breed. It was 32 degrees today, I think it is due to be about 5 degrees at the top of the Swiss Alps tomorrow – quite a difference. See ya in Swiss dreams.