Another day without travel. We are taking 2 days on each of lakes Garda, Como and Maggiore, so that we can relax and enjoy the surroundings, water and local hospitality. However, it wasn't quite a 0 km day – we rode in to Malcesine this evening for dinner, so in truth it was a 13km day.
After breakfast, we got the tourist bus into Malcesine. A couple of errands in town, and then we walked up to the cable-car station to take the cableway up Monte Baldo. A 2-part journey, you change cars part way up, at San Michele. The top station is 1760m above sea level (Lake Garda is 65m above sea level), and the views are, once again, special.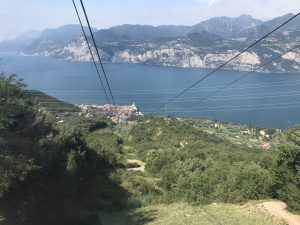 The day was a bit hazy, but the visibility was OK, and we walked along the ridge line at the top of the mountain. In one field there were a bunch of paragliders preparing to take off, so we sat down to watch them.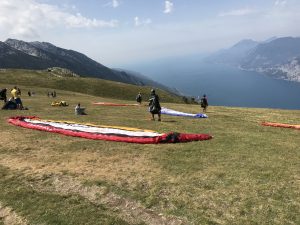 The gliders were waiting for the right wind conditions, and we sat for about half an hour without any activity, when suddenly a few of them took of in rapid succession. It was great to watch them leaving the ground and very quickly flying under their own guidance and power.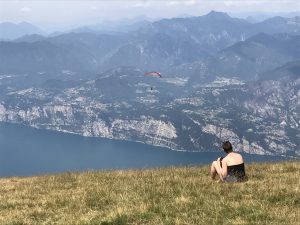 We roamed around the peak for a bit more, taking in the various views in all directions. Garda is huge – it is almost 52km in length – and surrounded by mountains on all sides. We could see the northernmost tip, but could not see all the way down to the south of the lake.
After roaming for a while, we got the cable car back down to town, and returned to the scene of the previous evenings meal to have our lunch. I had a local dish – cold cuts and cheese with a local bread, and fried gnocci that had been flattened. Delicious. Lena had aubergine with parmesan and tomato ragu, plus some pork escalopes.
After eating we explored the town once more, finding a number of areas we had not seen before. It is hard for Lena to be in a place like this, with so many shops and so much tat to purchase, and not have space on the bike to carry any new stuff.
Bus back to the hotel, a swim in the clear blue water, and then some pre-dinner snoozing and bloggery. We couldn't (well, we could, but felt we should push our boundaries a bit) go back to the same brilliant restaurant 3 melas in a row, so we went for number 2 on the TripAdvisor list this evening, and we were very glad we did. A family run restaurant, Al Gondoliere has been open for 28 years. The proprietor was a great host, his wife runs the kitchen, and his daughter works looking after tables. The food was very good, and the attention was lovely. We are about to start packing our stuff that has spread out across the room over the past 2 days, so that we can get a clean start in the morning. We are only going 200km tomorrow, but we are taking the scenic route so I think it will be about 5 hours of riding. See you at Lake Como.
Nighty night.