I am not sure what time the music stopped, but I fell asleep pretty quickly. I always carry a fair supply of earplugs with me whenever I travel, and I swear by the things. They have saved my sanity on many occasions. Last night was no exception – I slept the sleep of the just (or of those with no conscience).
Breakfast at the Seehotel was fine, and the coffee was damn good. Suitably refreshed, we suited, booted and loaded up the wagon, and again were rolling before 9. It took all of about 3 minutes to hit another diversion, and so we edged our way around the roadworks until we got onto some sort of main road, after which the going was easy.
We crossed into Austria within the first 45 minutes of our day. There was no border, no rd carpet awaiting us, and no press to mark the solemn occasion. I like this whole Euro "no-border" thingy. If only we could make it last. We filled up with petrol at a stop just inside the Eastern Republic, and then followed the A14. As main roads go, it is pretty spectacular. The Alps are pretty impressive and dominant, and offer breathtaking views.
We left the main motorway near Bludenz, and joined the S16. This is a road that joins the Tyrol with the west. It runs through to Innsbruck and beyond, and passes through a very pretty route. We enjoyed winding through the high routes and tunnels. At some stage, there was yet another diversion (there is a theme appearing here), and we learned that the Arlberg tunnel was closed. The diversion took us on the old road above the 14km tunnel, and we wound our way through pretty Tyrolean hamlets. The screenshot below indicates a section of the route that we had to navigate – hairpin bends galore! I am worried that I will not make it through one of these bends at some stage on this trip – I only hope that the drop over the side of whatever bend we fail is not too high.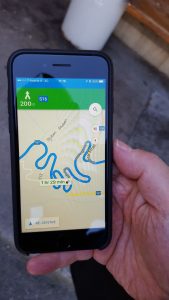 We passed by steep fields with cows wearing cowbells, lots of forest, rivers and waterfalls. Having survived the diversion, we rejoined the main road and went through a bunch more tunnels. Finally, we turned off the main road, and headed up the Otztal valley. More views beyond poetic description appeared before us, and we followed the rushing river up the valley for about 25km. We arrived at our secret destination around 1pm.
The Aquadome, a spa and hotel, offers multiple delights for the discerning guest. A complex with a series of pools, saunas, steam rooms, relaxation lounges and more awaited us.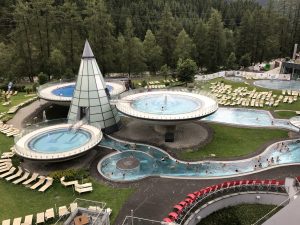 Our room has a spectacular view up the valley towards Italy (more on this in a future update). We unpacked (as in we threw all of our gear around the room for 10 minutes until it was unrecognisable), then donned robes and went to the spa. We had a good lunch, and then entered the serious business of trying every sauna, pool, relaxation room and expereince that the place offers. Another "textile-free" facility (at least the private, adult hotel guests only section) we were flopping and flapping and sweating and swimming for hours. I think I have never been so clean in all my life.
One of the saunas was set at 100% humidity. It was a large room, and about 15 people were in it, when young Klaus entered. Entirely in German he described the treatment he was offering us all, and then proceeded to pour handfuls of honey into the palms of our hands, and encouraged us to rub the honey all over ourselves. I have never smelled as sweet, and probably never will again. We then sweated for another ten minutes before being set free to go and wash ourselves thoroughly. An enjoyable, if slightly odd, experience.
When we could spa no more, we came back to our lovely wooden room, got dressed and went for dinner. A bottle of wine and a lot of food later, and here I am, updating my blog. How dedicated am I?