Well well, we have just completed our first (and last) full day in the Germany. Our little town of Bad Wildbad was truly idyllic, and this morning (almost) did not break the spell. Lovely breakfast in out hotel, packing is getting easier, and though the bike was in the nearby garage, I could ride it up to the door to load up, so in all a good start.
Actually, it was a good start, until we went to check out. The hotel staff had been immaculately polite, helpful and with polished English, and paying for the stay, I was ready to end our time there without hiccup. The receptionist asked me where we were headed to, and I told her our destination. "Ah, Lake Constance – beautiful. So much better than the Mediterranean". At this point I could not argue, having never visited Lake Constance. However, I have seen a number of points on the Med, and while lovely, it can be dirty and unappealing in places – so I was fully ready to accept that the lake formed by the Rhine was indeed much better than the Med.
"It is so much better", she continued. "There are no dead refugees floating in it!". And there you go – in a tiny, picturesque village miles from anywhere, safe and solitary, and never likely to attract anyone but the white and wealthy – Mrs Average has a strong and very negative opinion about refugees. I was flabbergasted.
Anyway, setting xenophobia aside, we paid up and drew a hasty retreat. I had planned a route which took us along a famous biking road through the Black Forest. This meant returning on our previous days roads for about 20kms, which I didn't mind at all as they were pretty, forested and twisty.
We rode along the 500 road for about 70 kms. It was stunning, with amazing views. We stopped a few times to gawk at the scenery and take photos. We waved to a lot of bikes going in the opposite direction, they were also enjoying a perfect day on a perfect route.
About 20 K's from Rottweil (who knew?), we ran into roadworks and a diversion. We had passed various signs threatening us with some kind of roadworks, but between us we can sprechen about 6 words of German, and so we blithely ignored the warnings. Anyway, before we could get to Rottweil (the breed of dog is named after a butchers dog from this town), we hit a dead end. A tentative turn on gravel (my bike is not easy to manoeuvre), and we turned back. My Satnav lady got a bit excited and kept trying to turn us around and send us back to the gravel pit. I ignored her with fortitude, and blindly felt my way through the countryside of Baden-Württemberg.
One of our detours took us through a small town, and we stopped at a local supermarket to stock up on lunch supplies. Suitably stocked, we continued our tentative route through the pretty agricultural countryside, and suddenly found ourselves on a motorway. We stopped at a picnic spot for our lunch, which was delicious. Germans certainly know how to make a good salami.
Back on our route, we headed south-east, until we came to Lake Constance. Friederichshafen is about 25km along the shore, but further roadworks and holiday traffic made sure it took us an hour to do the final 20k's. Not only was the going tough, but the blazing sun was slowly cooking us in our bike gear. We crawled along to our hotel, plonked the bike outside the front door, and staggered in to a modern-looking building, the Seehotel. The clerk was very polite, again spoke great English, and I though Lena was going to kiss him when he said we had been upgraded to one of the 2 premier suites that they have in the hotel.
Our room is amazing – it overlooks the lake, is very modern, has a lot of glass and mirrors, and is very comfortably appointed. We moved the bike to the underground garage, unloaded, and spent ten minutes "ooh-ing" and "aah-ing" at the room and views.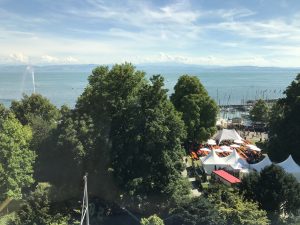 I was very drained by the ride and heat, so I had a shower, Lena gave my neck a massage, and I promptly feel asleep. I slept about an hour, and then dragged myself out of bed so we could have a walk along the lake. It is very pretty, and had wonderful views across it to Switzerland, and as they day was very clear, we could see a great collection of the Swiss Alps.
We could also see a massive collection of humanity. Today is the culmination of the Seehasenfest. The Lake Bunny Festival. I kid you not. Apparently, after the 2nd war, the area was very depressed. It was an industrial town (Ferdinand, Graf von Zeppelin had his factory here), and so was heavily bombed by the allies. The towns mayor, in 1949, in an attempt to brighten kids lives, started the festival, and it has grown to be a major family festival.
Unfortunately, I think we missed much of the traditional festivities (if there were any). We found a kilometre of fast food stalls, beer tents, candy stands, carnival rides and amusements, and a massive throng of over-excited, and often intoxicated, people. The place was loud.
I am not much of a morning person. I am not much of an anything person, to be honest, and often when I awake, either from a nights rest or a nap, I am pretty groggy. I felt pretty grim this afternoon – probably a combination of post-nap drowsiness and being baked in the sun while clad in biker clothing, plus a bit of sunstroke thrown in for good measure (my face – particularly my nose – burnt on todays ride). Anyway, I am not a fan of crowds at the best of times, particularly not of loud, jostling revellers, but combined with my feeling somewhat unwell, I did not enjoy what was meant to be a pleasant and edifying afternoon stroll along the promenade.
We passed at least 3 extremely loud live bands, all playing rock music. badly. One of them had a singer that could sing (kind of) in tune, which was refreshing, but it didn't really improve the music much. In fact, now in our lovely upgraded suite overlooking the lake (and the festivities), i can hear one of the bands mutilating many rock standards as I write. John Lennon is currently spinning in his grave at the travesty that is a Germanic "Hey Jude".
Anyway, back to my trials of the late afternoon. Lena dragged me along the lakeside in one direction, then another. The sun was too bright, and even with my sunglasses on I couldn't see much. My wife is many wonderful things, and she is good to me in so many ways. However, if she has a plan in her head, then the world could melt for all she cares – she is going to follow her plan. I shuffled behind her for an hour – though it felt like 12 hours – until she finally noticed that I was not firing on all cylinders, and so she shepherded me into a restaurant, which had a lovely terrace overlooking the lake. A glass of wine and a salad later, and I started to feel vaguely human. We had a nice meal as the sun set – a Swabian version of beef Stroganoff for me, and a Greek Nicoise salad mutation for Lena. She enjoyed her tuna and sheep cheese salad a lot. My beef was lovely, accompanied by what I can only describe as a combination of scrambled eggs and dumpling mix.  It went together well, and as I was coming around by the time I ate, I rather enjoyed it.
Now mostly recovered, we strolled back to the hotel, and got down to the serious task of keeping our blogs up to date. Lena is writing one in Russian, and she has many more photographs than me already, so go take a look if you can read Russian (or even if you can't).
The band are now tormenting Freddy Mercury with a terribly poor Queen medley, so I will leave you before they commit sacrilege against another dead rock icon.
Laters, Alligators.